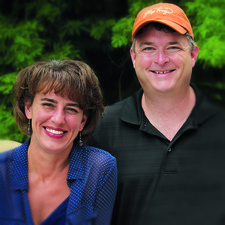 By Amy and Steve McQuin
For some people, hobbies are just that…hobbies, and they want them to stay that way. For others, hobbies can take on a life of their own and become not only passions but also real jobs. The latter is the case for a bass angler named Jim Torgerson, along with my husband Steve and myself. Jim wanted to design a better frog lure to help him win tournaments. He did, and it became known as the Slop Frog. Jim had great success selling his lure, but with the economic downturn in 2008 and his business partner moving for employment reasons, Jim found it difficult to keep things rolling. This is where my husband Steve entered the picture. Steve helped Jim with sales and set up a website, but the labor involved in getting the product out the door was still an issue, and that is where I came in. Steve approached me, a stay-at-home mom, with the notion that since I had some time on my hands for a new hobby, I might like to learn the art of pouring Slop Frogs. The immediate appeal was that I could work from home, set my own schedule and be creative, all wrapped into one. I agreed, and Jim set up shop for me and taught me all of the ins and outs of creating a Slop Frog. I quickly found there was more to this process than I had expected, but Jim was a patient teacher and quelled my anxieties, and I turned out to be a quick study.
The C to C Bait Company was formed when my husband Steve and I decided to buy the business and take over the manufacturing of the lure while still retaining Jim, his passion and his vision, as lure designer. My basement became a manufacturing facility and distribution center. Steve took care of the business end of things, which is a passion of his, and I took care of the manufacturing and shipping end of the company. I developed a true passion for this new hobby of mine when we had the opportunity to be a part of the Madison Fishing Expo. I met so many interesting anglers and found out how truly unique our lure was. I also chatted with a few lady anglers who inspired me to develop a line of Slop Frogs geared toward them. I am hoping to add an exclusive bait of the month next year launching in February with the Valentine-themed Slop Frog, which will have a festive color combination geared toward the day. Following our success at the Expo, Steve was able to secure a place in the April Mystery Tackle Box, a subscription service that delivers a new box of varying tackle to your door every month for a set fee, and that was when my hobby/passion took on a life of its own and became a real job. I had three weeks to wash and dip hook sets, pour, tail, weed guard and package 4,000 Slop Frogs. It was a far cry from a hobby now, but I made my deadline.
Our company C to C Bait is named after our children Chloe and Calvin, with the double entendre that our lures work "from sea to sea." Its unique mission: To bring products to market under the By Fishermen, For Fishermen brand. We hope to attract other people like Jim who are passionate about the artisan lures they design, those who would like to get their lures out on the market, a market for which I now have the time, ability, desire and knowledge to navigate. The By Fishermen, For Fishermen lures must meet several criteria, criteria necessary for a successful product in the artisanal lure/fishing industry, which is similar to many other "craft" industries, i.e. beer, furniture, clothing, whiskey, jewelry, etc. There are thousands of fishermen that make their own baits, just as there are thousands of artisans who ply their wares on Etsy.com and within their hometowns. We are excited to be a part of the artisan community, bringing artisan baits to millions of anglers in search of something unique. Baits that catch fish. Baits made By Fishermen, For Fishermen.
A typical visit to the sporting goods section in a big box retailer to select a lure can be daunting, even for the most experienced anglers. There are thousands of baits next to each other on pegboards with little to no explanation about the differences between the various brands. Online is even more confusing. Everyone has a site talking about how great their baits are, but how does one discern their quality? How does one decide which lures to fill a tackle box with or which baits to buy for dad for Father's Day? A guiding brand, not just a product brand, could help make these decisions, and that is exactly what By Fishermen, For Fishermen is about: Building a brand of artisan products that people will know are high quality, effective, innovative and Made in the U.S.A. We made a conscious decision to hand pour our baits in America. The reason is simple. Despite the numerous challenges this country faces and the concern we have for Chloe and Calvin's future, we are true believers in the American Dream. Artisans, innovators and entrepreneurs built and shaped this country, and we are interested in continuing what they started. As we grow, the decision to produce in America will have a positive impact on our community and on others nationwide: Good paying local jobs with a focus on hiring veterans, working with American suppliers and helping American bait designers bring their products to market and helping American anglers purchase something of value. We like to think that president George Washington, a recreational angler and fishing industry pro, would be proud.
Through the By Fishermen, For Fishermen concept, we hope to expand our business and provide other artisan lure makers an outlet to get their products to market. Starting a business can have some scary moments, but the experiences and interesting people we have met have made starting this company worthwhile. Every day is a new adventure, right here in Beaver Dam!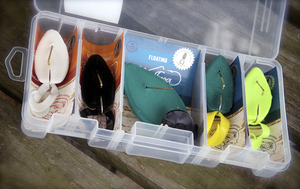 Win a Slop Frog Baits Tackle Box!
Fill out the form below to enter –