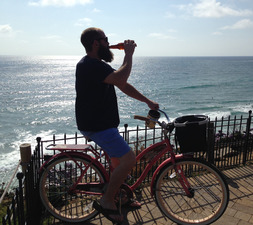 By: Matt Kenevan
Baseball, apple pie and session beers, sometimes known as lawn mowing beers because of their refreshing qualities; session beers are hands down my favorite beers. By no means do you have to sacrifice taste when going for a lighter, lower alcohol beer.
Beers today range from 3% to 13% alcohol by volume (ABV), nothing wrong with either end of the scale but I think it's pretty important to know what the ABV is when trying new beer. It's an important criterion to the structure of a beer, and alcohol content can be deceiving. While some high ABV beers do taste boozy, there are others that don't taste as high-octane as they actually are, and those are the ones that can sneak up on you.
If you don't know where on the scale the beer you are drinking resides, you might find yourself a little out of sorts. You know the old saying, "But officer, I only had two." Well, these days you may have had only two, but two high ABV beers can put you past that .08 level, so know your stuff.
Hops can be even more confusing to the senses, especially to a newer craft beer drinker. Some taste hops and perceive high ABV. Not necessarily the case. Hop levels and alcohol content are two different qualities of a beer.
The session beers I speak of are in the 3-6% ABV range and also tend to have low hop levels. The worlds strongest beer on record is Brewmeister Armageddon coming in at 65% ABV. I'm pretty sure that might taste a little like jet fuel, especially on a hot day after mowing the lawn.
Here are a few of my favorite session beers:
Ale Asylum Hopalicious 5.8% ABV, available year-round (but unfortunately for me not available in Minnesota so I load up when I come home to visit Mom).
Summit Extra Pale Ale 5.2% ABV, this was the beer that steered me to craft beer. My wife worked at Summit Brewing Company when I met her. This was the beer that became my go-to brew a decade ago and still is today. Now available in cans too, which excites me even more about the beer. The cans stack so nicely in my fridge and cooler so I can pack in even more of that delicious pale ale.
Founders All Day IPA 4.7% ABV, this little number is named appropriately; it is simply refreshing and good anytime, anywhere.
Last but not least is another Madison favorite…Capital Brewery's Supper Club 5.2% ABV, a classic lager. Known for the 12 oz. can. Canned before cans were cool. It's another one of those beers that is easy going down. This is the beer that if you say, "I don't like hops" or if you think you don't like all this craft beer craze but want to look a bit more sophisticated than drinking yellow fizz…this is an excellent beginner craft beer for you to try.
What's on deck for the rest of summer? We have the Summer Beer Dabbler on September 6th at Midway Stadium in St. Paul, Minnesota. It will be held on the field under the stadium lights. We'll feature about 85 regional breweries, awesome bands playing live music, tasty food brought to you by a dozen cool food trucks and then the grand finale will be a dazzling fireworks show. If you were thinking about making it to one of my events, this would be a good one.
Until next time, be nice to each other and have a beer together.