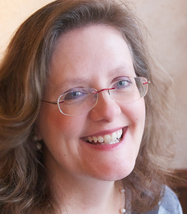 By: Karla Jensen

Karla Jensen has been a freelance writer for 25 years. She is a pub­lished playwright with her hus­band Mark, and she teaches writ­ing at the Seippel Center.
He is as calm as the wilderness he paints and as inviting as snowcapped mountains. He appears as patient as a mighty Matterhorn and carries the subtle humor of mischievous critters with whom he shares space. Although his jam-packed schedule is as busy as a musician on tour, he does not peddle artwork. Rather, this artist sells tranquility year round to people, many in the midst of busy and hectic lives, who crave his brand of peace. He sells splendor and harmony that is oh-so-tempting, but often out of reach, which makes his work even more tantalizing. It is as if his art is not a noun, but a verb that calls us to step away from the desk, turn off the TV, grab our hiking shoes or kayak, and become one with nature.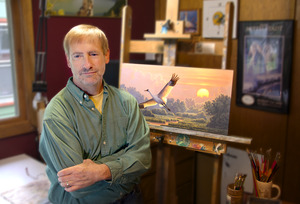 Frank Mittelstadt is nothing like his name sounds. He is not old and he is not young, but dwells in an age perfect to devote his time and energy to his art full time. "My last real job was in 1985 and since then, I've done nothing but artwork. I had previously worked in the restaurant industry and as a plasterer in construction, but I worked my way towards being a full time artist," shares Mittelstadt. Frank is a Beaver Dam native and surprisingly, had few art classes until his teenage years. "In high school, I picked up my first paint brush and instantly knew what I wanted to do," said Frank. "I explored other mediums but found out early on that I loved acrylics. I knew I had talent when I started selling my work to teachers, some of whom couldn't believe I had actually painted work I presented," he recalls. Frank was always artistic, he says, even during his early childhood and still references the photo of him winning a Sentry Halloween coloring contest at age nine or ten.
Although he lived for a time with his brother in Madison, Frank did not get involved in the art scene there. Instead, he dabbled in working toward technique and figuring out how he could make money through art avenues. "I attended a seminar which focused on drawing pencil portraits of kids. I'd take a photo then knock out a pencil drawing in a very short time. I drew individual children at first, then groups. This kind of business took a lot of hustling, but the income paid the rent. Kids' drawings were relatively easy to sell to parents since we worked hockey, basketball or football games. I'd create a drawing of one child in the family, then receive requests to do other family members."
Mittelstadt started with pencil drawings, but that is not where his skill remained. This artist clearly leveraged his passion for nature and capitalized upon it. Frank is not exactly Duck Dynasty material or a Wild Kingdom crusader, but is an avid outdoorsman, and knowing him, you would be surprised he commits to placing his body in front of an easel long enough to conduct the work of a painter. Talk to him for five minutes and you will gather he would rather be outside enjoying the fresh air, the symphony of sounds from wildlife, capturing the detailed and often magnified images that he pins down as cleverly as a wrestler and holds them tight. What he lacks in formality he makes up in detail. That is how he sees himself as an accomplished artist – through the eyes of detail. His creations are like a mirror and a shadow both: a mirror because everything he paints is a reflection of his love for nature, and a shadow because what he has left in his wake is truly a silhouette of his own passions and love, shaped not surprisingly after himself.
Frank Mittelstadt's brand of work has captivated us with regal beauty which typically begins as a photo. He then uses the photo as inspiration for his painting. His style appears on castaway cabinet drawers and doors from his wife Lori's leftovers. She has worked for a cabinet manufacturer for years and Mittelstadt was enterprising enough to upcycle these panels in order to provide a clever and fetching instant frame for his work.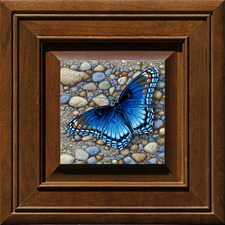 "I remember Lori had some cabinet door samples she was going to throw out. I said, 'That's beautiful wood. I want to paint on them.'" She spoke to cabinet company reps she worked with, and suddenly they found boxes of samples delivered to their door. "Since then, I've changed jobs and my new employer also had quite a supply of discontinued door samples, enough to keep Frank busy for years," added Lori. Painting on cabinetry is now Frank's signature style, sure to be hijacked by other innovative artists.
Frank met wife Lori by virtue of her brother purchasing one of his most famous "Turn of the Century" prints in 1999. "Lori was very creative and artistic. I met her when Eagle Publishing and the Knights of Columbus held the fifth and final Artist Meet & Greet at Bayside Supper Club. I had sold a number of signed limited edition prints along with the "Turn of the Century" matching beer steins. Those who purchased a print and stein met for a nice dinner at Bayside. Lori was there to pick up her brother's print and as we spoke, we found we had a lot in common."
"At the time, I worked with Eagle's Nest Gallery in the mall with Jerry Indermuehle. He served as my agent and helped me negotiate with clubs and organizations around the country to produce specialty art products with my designs. I was commissioned to create a number of designs for various chapters of Jim Beam Bottle Collector's Clubs," recalled Frank. He was also commissioned by the Bradford Exchange to create several series of collector's plates. He produced four different designs for the McDermott Pool Cue Company as well and has a couple of handcrafted cues that he shoots pool with in the Dodge County Pool League. "I provided an odd shaped painting which is then fashioned into decals to place on the cues," explained Frank, much like he did for the "Turn of the Century" beer steins.
Indermuehle was instrumental in collaborating with Mittelstadt and the local Knights of Columbus to produce the limited "Turn of the Century" series. "By 2000, I had created four in the series of historical prints and finished my fifth and final one. I started the series in 1995," said Frank. The artist recalls heading down to the Williams Free Library, taking photographs from across the street and collecting historical photos. "That wasn't my comfort zone, working from black and white photos, and I've never been very good at painting people. I crafted some sketches, reported to the Knights of Columbus who approved them, and then, completed the project." Jerry Indermuehle also helped him establish himself as a wildlife artist. "I had shown some of my work in Sauk City, where they published my first prints, many of which sold out. There, I saw how lucrative wildlife art could be."
For years, Frank has created pencil drawings that adorn the covers of the Lake Improvement Association fundraising banquet program covers and collectable plates. Prior to his local groundbreaking "Turn of the Century" work, Mittelstadt had previously put his name on the map as a winning Duck Stamp artist. "In the mid 1980's, my mom saw the announcement for the Federal Duck Stamp contest. She sent for an application and told me to try it. This really opened my eyes to the vast world of wildlife art. I am inspired by what other artists contribute. Until that time, I had done mostly big grand landscapes with wildlife in the scene. The Duck Stamp competition is entirely different," said Frank, knowing he could delve deeply into detail that would challenge him and that he thoroughly enjoyed.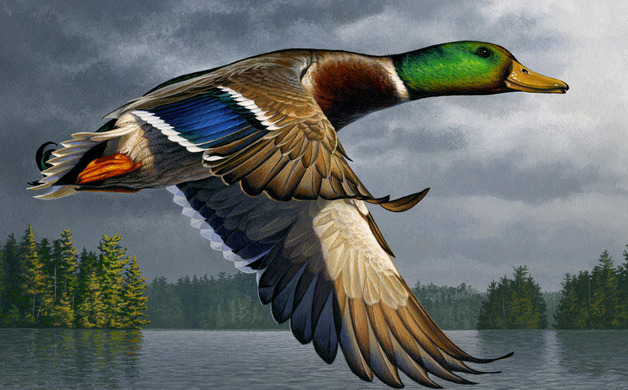 "I entered my first Federal duck stamp contest in 1986," said Frank. "I had to send the original and follow rigid guidelines creating a 5×7 inch painting; now it's larger at 7×10." No payment is made to the artist. Winners simply receive a sheet of stamps. After the fact, publishers swarm winning artists and create merchandise from the winning image. Frank has placed in the top five nationally several times. "I know the Federal Duck Stamp competition is within my grasp," says Frank, appearing as eager to score the big one as a hockey forward. He tells the story of waiting by the phone to receive the news about his winning duck stamp. "You get a call from Washington DC and get to speak with the Secretary of the Interior."
"I push the limit on the deadline every time," reveals Frank. "In the pre-worldwide web days, it was difficult to find out how you placed in the Federal, but now you can watch the judging live on the Internet." He has won the state contest a couple of times. "I was so thrilled, I was now in the same arena with very good artists and competing. That felt great."
Mittelstadt has been present at the DNR headquarters for the state competition where, he says, "We just hang out and see who wins. One year, I was on the way to a friend's place to go fishing, and decided to drop by the judging. As I entered the building I saw the secretary approaching me with a big smile. I knew I had finally won. When you win state, the state uses your image to make duck stamps, but the artist retains the original painting and reproduction rights. Suddenly, people bought my work to add to their collections. Duck Stamps were definitely lucrative. Peter Seippel bought all my winning paintings. I was amazed that my work was there beside famous originals that Peter owned. It was an honor."
Beyond enjoying having his work in Peter Seippel's collection, Mittelstadt has been involved regularly as a contributing artist to many exhibits at the Seippel Arts Center. "I participated in the wildlife show every year," said Frank. He has also participated in "Brothers in Art" and the most recent BDAAA Membership Shows, where he has won several top prizes. He is also set to host a one-man show in 2015 at the Seippel Center. His proudest art moment on a national level came in the National "Arts for the Parks" in the 80s and 90s. The top 100 winners' artwork (of which Frank's was included four times) travels the country with an extravagant awards ceremony and dinner in Jackson Hole, Wyoming, which according to Frank "is a spectacular place." Frank sent an entry for many years and "felt a big thrill to be a part of it. I sat at tables with famous people, the Rockefellers, TV personalities, etc. Our artwork was often sold at an auction during the event. My pencil drawing of 'Alpine Warrior' went for $1700."
Outside of art, Frank loves to travel, bicycle, take photographs and ski. He enjoys sharing his self-deprecating sense of humor. He has made peace with his laid-back spirit but counters his cavalier attitude with a thirst for perfection. "I'm also a morning person. I love to see the sun rise. I say I'm late if it's 6 am and I'm dragging myself out of bed, plus the noise from the birds outside wakes me up so I just get up with them. I love to paint butterflies, too. I've borrowed a few expert reference photos from Jack Bartholmai, a very fine photographer."
According to Lori, "People love to listen to Frank. He knows nature and it comes so natural to him. Our two different personalities come out when we sit on the deck or take a ride on our pontoon boat," explains Lori. "He has to be identifying things in nature, but can just sit and stare and enjoy, too. I have to be doing other things. Frank also has a very sharp memory," adds Lori. "He's great at the Sunday morning crossword."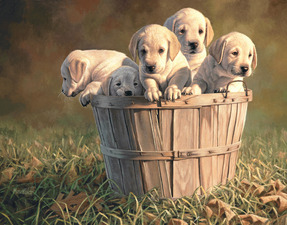 Frank has a wonderful smile and a great head of hair. He almost looks too neighborly, too normal to be a prominent artist who should have a big head and a bigger ego, but he doesn't. He has simply forged bewitching unity with the land and her majesty and enjoys submersing himself fully into his leisure, which is his work. If we could all be this lucky. His best friends and companions are his wife Lori and his dog Biscuit. Biscuit accompanies him everywhere and has appeared as his own personal Mona Lisa, canine style. Get close enough to Frank and you might find yourself in one of his works. One cannot help but believe he will continue gaining on his goals and fulfill every one of them.