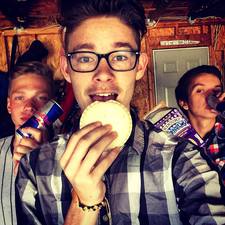 By: Jordan Dahl, Justin Meli and Devan Diefenbach
The Riverside Regulars are an original indie alternative band from Beaver Dam made up of three high school seniors. We are Devan Diefenbach (vocals and guitar), Jordan Dahl (drums) and Justin Meli (vocals and guitar). About two years ago, the band formed as the result of a simple Facebook message. It was a message from Justin to Jordan that nonchalantly asked if he wanted to start a band. At the time Jordan was the only one who was set with his instrument. He had been playing drums for many years. Justin had been into guitar a little bit, but he intended to only be the lead singer. About two weeks passed and Devan messaged Justin. He had been playing guitar for about four months and he was really interested in joining the band. Devan was only going to play guitar, but it was brought to Jordan and Justin's attention that Devan could sing pretty well, though at the time he had never sung in front of an audience. When Devan joined, he had a big effect on the band. Justin encouraged Devan to sing more, while Devan encouraged Justin to play guitar more.
That is how we have gotten to where we are now. Many people have brought it to our attention that they like how the band is set up. The two guitars and the two different vocalists seem to stand out a lot to many people. The solid drums along with the two seem to create a pretty unique sound.
When the band was just starting, we would practice in Devan's backyard, also known as Riverside Park. Almost every day, we would get together and try to come up with new song ideas. We wanted to incorporate the park name into our new band name since we had spent so much time back there. After talking about many options, we decided to go with The Riverside Regulars.
On the 21st of June, we started recording our first ever EP, a short album, with Sam Sterk in Waupun. We had recorded before, but never in an actual studio with top of the line gear. We are really excited to get new, professional quality recordings out there for everyone to enjoy and hope it will bring in more fans and exposure. With only one session left to go, it should be out around October.
As a band, we have been playing shows for over a year now. We have played at Beaver Dam's Oktoberfest, the BMX park fundraiser and also at Beaver Dam Lake Days, and we have also gotten a few acoustic shows from Karla Jensen at the BDAAA, such as An Evening In Rome at the Chapel of Archangels. Our biggest shows were at the high school. We were asked to perform first for the high school band class and then later asked to play for the orchestra. We were also a part of the first annual Key Club Talent Show put on at the Beaver Dam High School. With many other great acts, we ended up getting first place after performing our original song "In My Head and My Heart."
After high school, our plan is to move to Nashville and try to get more shows and exposure there. We believe that we truly have potential and we are really passionate about making this happen for the rest of our lives. The way we see it is if you have a dream, you will never achieve it if you don't try. Being 17, now is our time to try it and make things work and we will do whatever we have to do to make it work. We started this band because we have a love for music, not just because it would be "cool" or to just pass the time. We are just three guys who love to make music. This isn't just a hobby for us; it is a lifestyle. We have been very honored to play these shows and get the chance to show everyone what we are so very passionate about.
If you are interested in coming to any of our shows or preordering an EP, check out our Facebook page at www.facebook.com/theriversideregulars and if you are also interested in learning more about Sam Sterk you can find him at www.samsterkaudio.com
We hope to see you at a future show of ours.