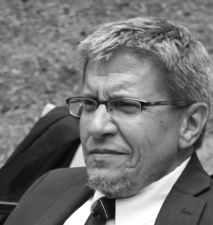 After leaving corporate life, Dave Erickson has established himself as a freelance photographer and does image and document restoration. He also enjoys volunteer work in the Wisconsin Historical Society's Digital Lab. Currently residing in Cudahy in a home designed by John Randal McDonald, he is working on a book, along with a co-author, that will not only provide written and photographic documentation of McDonald's work but also include many stories surrounding the architect, the homes and the incredible people encountered along the way.
By: Dave Erickson
A home situated on the eastern shore of Beaver Dam Lake will likely challenge those that pass by to describe it in familiar terms. You see the front of a house constructed entirely of wood, stone and glass. The long, horizontal stretch of the house seems to complement the landscape rather than intrude. Sunlight and shadows paint the natural surfaces that conceal even the entry to the house.
The architect responsible for the design of the house built by the Maloney family in 1957 was John Randal McDonald, a Wisconsin native who was born in Milwaukee and grew up in Wauwatosa. McDonald studied fine art at Milwaukee Teachers College (today's UW-Milwaukee), served as a navigator in World War II, and after the war, earned a Master's Degree in Architecture from Yale University in 1949. Yale awarded McDonald its highest honor, the Winchester Fellowship, to study abroad. He declined the opportunity in order to return to Wisconsin, with his wife Josephine and their daughter, to begin his practice in Racine.
McDonald began at once designing homes for clients, often young professionals that wanted a house quite different than most others, but the house had to be built within a limited budget. These affordable, distinctive designs were best described by the materials he designed with: wood, stone and glass. McDonald explained: "I want your home to be so quietly designed that all the materials woven outside are woven inside as well. When we use wood on the outside on a particular wall, the warmth of the wood is in relation to the property, and that same wood then comes inside the home as well. Or when we use stone or brick on the outside, that same stone or brick comes into the home as well." Some describe this as Organic Architecture – he liked to call it American Architecture. He considered his designs so "honest" that a room should look attractive without a single piece of furniture in it.
James Maloney, along with his wife Ruby, owned and operated a jewelry store in Beaver Dam in 1957. Not only did James's business demand an eye for the aesthetic but he was an artist and enjoyed painting. He was paging through an issue of New Homes Guide magazine when he came across a plan that he found most striking – design #1632 contributed by John Randal McDonald. This bi-annual publication provided house designs by some of the nation's most talented architects for readers to review. Construction drawings could be ordered from the architects for a modest fee and the reader would build or contract for construction from these plans. While John Randal designed over sixty homes for families in the state of Wisconsin alone and hundreds around the world, he believed that beyond this direct client work, the New Homes Guide enterprise helped fulfill his ambition: "To bring my designs within the reach of many people, not just a few." From 1955 to 1958 McDonald contributed eleven "Guide House" designs. Apprentices were kept busy sending plans to customers and claim to have mailed working drawings to locations in all 50 states.
Maloney didn't have to think about it. He told his wife, "This is the house we're going to live in." With the plans in hand and a plot of land on Beaver Dam Lake surrounded by fields and a stone quarry, the Maloney's enlisted the help of James's brother, the owner of a construction company in town, to help build the house. Construction proceeded carefully to the working drawings, using specified wood panels and limestone, but with one exception. The house was flipped with the entry and carport on the left rather than right. With a large mirror propped up behind the drawings, James and his brother worked with an inverted vision of the finished Maloney home.
The house today reflects several changes from its original design. Subsequent owners converted the carport to a garage, and Mrs. Maloney added shake shingles to the exterior.
John Randal McDonald had studios in Wisconsin, Florida and St. Croix. His work expanded to include not just residential design, but commercial buildings and churches throughout the country and the world. McDonald continued to design until his passing in 2003. He is survived today by his wife and five children.