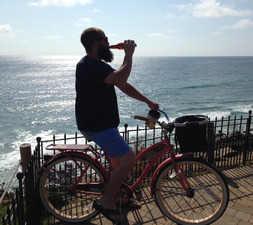 By: Matt Kenevan
Born and raised in Beaver Dam, the son of Dan and Louise Kenevan, Matt now resides in Minnesota with his wife and son, and his dog Porter.  He has an entrepreneurial spirit and a passion for beer, which he shares as Founder of The Beer Dabbler(c) and publisher of The Growler magazine. 
Oktoberfest doesn't have much to do with the month of October these days. Each year Oktoberfest beers hit liquor store shelves earlier and earlier—the season of availability has extended into August and even July in some cases. Since Oktoberfest beers are lagers, and need longer time to age in a brewery's tanks, that means these beers are being brewed in June or even May. And considering the annual German festival that gave birth to the style starts in September, you may wonder why it's even called Oktoberfest at all.
Of course, the reason the beer is being brewed earlier and earlier is simply because there are enough thirsty beer drinkers demanding the popular malt-forward beer after a spring and summer chock-full of ultra-hoppy IPAs.
But why does the German Oktoberfest celebration start in September? Germans are stereotypically much more precise than that. Were the beer-loving Bavarians of yesteryear dizzy from dancing the polka? Nay. There is a very simple explanation based on practical reasoning.
The first Oktoberfest was not the festival of beer and pretzels of today, but rather a weeklong wedding reception for Crown Prince Ludwig of Bavaria to Princess Therese back in 1810. Oktoberfest began as a Volksfest (a festival for the people), and the community was invited to celebrate the royal nuptials on the land that was thus named Theresienwiese (fields of Therese). Perhaps there is a correlation there between Theresienwiese and the village of Theresa in Dodge County, Wisconsin, although I don't think so. The epic wedding of Ludwig and Therese was such a fun time that the people of Bavaria decided to keep it going as an annual event. It was named Oktoberfest in 1811.
Oktoberfest originally started and ended within the month of October, but as it continued from year to year they shifted it to an earlier start date to maximize the opportunity for better weather, similar to here in the Midwest where we try to get all our outdoor fall festivals in before the snow flies (except the Beer Dabbler Winter Carnival, which celebrates the cold and snow).  Oktoberfest now begins in September and continues for over two weeks, but it always ends with Unity Day in early October.
Have a yearning to celebrate Oktoberfest without holding a ticket to Germany? There are plenty of Oktoberfest celebrations here in the states, including La Crosse's famous Oktoberfest from September 25–28.
For another festival featuring beer in October, check out Fermentation Fest in Reedsburg, Wisconsin, from October 4–13. This will be the third annual event known as Fermentation Fest, hyping agriculture and various forms of fermentation that produces beer and other food and beverages like sauerkraut, kimchi, and kombucha. Fermentation Fest adds in workshops, theater performances, live music, a scenic bike ride, and a corn maze. The festival, presented by The Wormfarm Institute, a non-profit focusing on the intersection of sustainable farming and the arts, leaves you with the prized souvenir of knowledge. Some of the workshop topics: Intro to Hard Cider and Vinegars, Chocolate and Beer Pairing, Intro to Homebrewing, and All Things Beer. For more information, visit fermentationfest.com.
Enjoy this beautiful time of year and enjoy the results of all the hard work and history that went into developing those Oktoberfest beers.