Publishers Note: This Feature Article was published originally on September 23, 2014 appearing  in our September / October 2014 Print Edition.
Beaver Dam Pepper History
By: Julie Csiacsek-Schewe
Julie is a school psychologist in Manitowoc, but grew up in Beaver Dam.  An avid runner who enjoys traveling, she and her husband John have three daughters.   
When my grandmother Anna Csiacsek immigrated to the United States at the age of 15 in 1921, she brought a bundle of pepper seeds with her.  She carried the seeds, a brass cookie mold, and a few other items 1300 miles when she left Vörösmart (pronounced Verershmart), Hungary and made her way by foot west to Charbourg, France, where she boarded a ship for America.  She had not seen her father and stepmother for over nine years when she arrived in Beaver Dam.  As she settled in, she found a close-knit community of Hungarian families including the Joe Hussli family.
These families preserved many old world traditions including wine making, baking, gardening and cooking.  Given its culinary importance in the homeland, they were careful to preserve the Hungarian pepper.  The heirloom Beaver Dam pepper brought to America in 1913 by the Joe Hussli family is from the same Baranja region of Hungary that the Hasenstab and Csiacsek families came from.  The Slow Food movement group, a non-profit organization that aims to preserve biodiversity, celebrated the 100th anniversary of the Beaver Dam pepper statewide last year.  The movement estimates that about 300,000 vegetable varieties have been lost over the past century.  My cousin Tim Csiacsek has been working hard to organize a celebration of the pepper right here in Beaver Dam:
One of my first experiences with the pepper was not a pleasant one.  Growing up we had an abundance of peppers every year.  I have very few memories of when I was two or three, but this I will never forget.  One afternoon my father picked and cut the ribs out of some peppers.  He left a pile on the back patio.  I was playing with them and did not know how hot they were.  I licked my fingers and rubbed my eyes and pretty soon my whole face was on fire.  Despite this early childhood experience, I treasure the peppers as well as my grandmother's recipe for Hungarian goulash.  I recently made a batch and just smelling it simmer on the stove triggers a flood of memories that takes me home again.  I can picture myself sitting in my grandmother's kitchen, and it warms my heart.  Although she has been gone since 1995, I still miss her.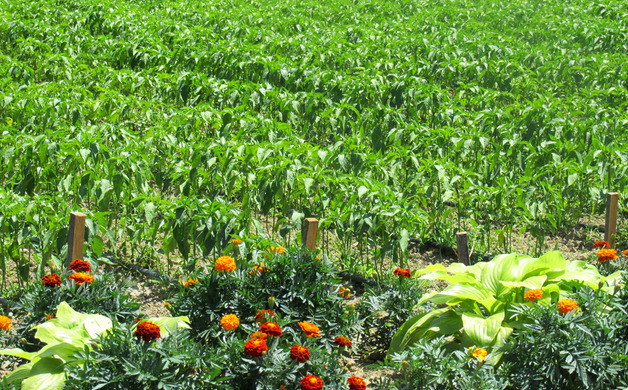 I also love to eat the peppers raw, added to wraps, sandwiches and salads, or cooked in chili.  I picked up a couple of cookbooks while in Hungary and am anxious to expand my collection of dishes that call for the pepper.  My sister added some to homemade tomato soup and people raved over it.  Love for the heirloom pepper has rubbed off on my family, including my husband John and daughters Olivia age 10 and McKenzie, 11.  The peppers have a distinct flavor.  It is a rich, sweet yet smoky, chili-like taste with a spicy bite if you are not careful.  They are a little unpredictable though, and despite one's best (and careful) efforts at cutting out the ribs, you cannot always tell which one will be hot.
The peppers are tricky to grow.  I usually start the seeds indoors around St. Patrick's Day in March.  The peppers, which like heat and humidity, can go outside in June when the weather turns warm and there is no threat of frost.  They are delicate.  They need gradual exposure to the outside and require a lot of attention.  This year I hope to harvest triple what I brought in last year.  One hundred of my plants came from my Cousin Patrick Csiacsek's rural Beaver Dam farm.  He has the ideal environment in a greenhouse he made, and each year he starts hundreds of the peppers for many of the Csiacsek clan.  To save the seeds, I simply cut out the tops of some of the best peppers and set them aside at room temperature.
There are about 40 varieties of peppers in Hungary today, and as I mentioned, my family visited Hungary and Croatia in June and tasted some of them.  We began our trip in Budapest, Hungary.  We visited the Great Market Hall where we found an abundance of peppers and paprika.  Although we could only enjoy the peppers while in Budapest, we were able to bring home lots of paprika.  Talking to the locals I learned that peppers and paprika continue to be an important agricultural commodity in Hungary.  Thousands of pounds of Hungarian paprika are sold worldwide every year because of its popularity, and 90% of traditional Hungarian and Croatian meals are seasoned with paprika, everything from sausage to fish to goulash.  While in Eastern Europe, we enjoyed many such dishes and felt as though the cuisine was one of the best parts of our trip.  After touring around Budapest for a week, we took a train to Croatia to my grandmother's village.  It is nestled between the Danube and Drava rivers and was named Zmajevac (pronounced zmi-ya-vatz) after World War I.  My grandmother said it was in the Baranja region of Southern Hungary when she was a little girl.  For its part as a key instigator, Hungary was punished by the Allies after the Great War and with the Treaty of Trianon signed in 1920 was stripped of two-thirds of its land.  Vörösmart became part of Yugoslavia, and following the more recent Croatian War of Independence (1991-1995), became part of Croatia.  It is located in the far northeastern part of Croatia and about 5 miles from the Serbian border.  Mihály Vörösmarty (1800-1855) was an important Hungarian poet and dramatist.  Zmajevac means dragon and the locals tell me there is a legend about the dragon the town was renamed for, but no one seemed to know any of the details (good topic for future research).
We noted the beautiful countryside driving east from Osijek, the county seat of the Baranja region and our home base as we toured the area.  We visited the Kopacki Rit Nature Park, one of the largest wetland areas in Europe, and had a boat tour by an English-speaking guide who filled us in on the local flora and fauna.  When we told him my grandmother had lived in Zmajevac one hundred years ago, he said many of the locals are of Hungarian descent, himself included.  He talked about the importance of the Hungarian pepper in the local cuisine and said his favorite is carp soup seasoned with paprika.  After leaving the preserve, we continued east toward Zmajevac.  On the way, we saw breathtaking fields filled with sunflowers in full bloom and large pepper gardens.  A Croatian travel brochure we picked up (also printed in English, thank goodness) says Baranja is a major heartland of the paprika-laden cuisine that is common to Eastern Croatia and neighboring Hungary with dishes like cobanac, paprikas and perkelt (hot red stews that in English-speaking countries might be grouped under the generic name of goulash) appearing on the menus of everything from fancy restaurants to roadside bistros.
One of the region's main sources of culinary wealth is the rich stock of freshwater fish provided by the Danube and Drava rivers.  Catfish, pike perch and carp form the ideal ingredients for the local specialty fis paprika, a soupy paprika-laden stew featuring huge chunks of usually un-boned fish swimming around in spicy red liquid.  Dishes like fis paprika and its slightly thicker cousin perkelt are usually served with pasta noodles and most establishments provide diners with a bib to prevent the (otherwise inevitable) embarrassment of coming away with red blotches all over their shirts.  I remember my grandmother's homemade noodles used for goulash, and a fish stew made with carp and seasoned with paprika I never particularly cared for.
We stopped for lunch in Suza, the village just before Zmajevac, at a restaurant called Kovac Carda famous for its fis paprikas.  The family has a fishpond just up the road, ensuring their fare is fresh.  After we were seated and ordered, I ran around snapping pictures of the dining room walls, which were covered with framed prize-winning diplomas from major paprika-cooking contests (notably from Kalocsa, the red pepper capital of southern Hungary).  Suza and Zmajevac hug the southern slopes of the Banska kosa, a long low ridge covered with some of the most productive vineyards in eastern Croatia.  Although I was not allowed to take pictures of the Kovac family's pepper field, I was able to come away with two 3 lb. bags of paprika, which my husband spent the rest of the trip complaining about lugging around in his carry-on bag for safekeeping.  One bag is a smoky flavored hot paprika and the other is sweet.  They have a richer flavor than the paprika (hot and sweet) we bought in Budapest.
Finally, after a year of planning, we drove our rental car into Zmajevac, but not before stopping at the edge of town for a picture of the girls and I standing next to the sign that says Zmajevac on top and Vörösmart underneath.  I could not believe I was there!  After I shed a few tears, we piled in the car and headed into the village.  My family quickly tired of the frequent delays when I would exclaim "Stop! A pepper garden!" because of my obsession with capturing the perfect pepper garden image.  (They don't quite get it.)  We observed in Hungary and Croatia many homes and restaurants proudly displaying bright red pepper garlands.  I managed to smuggle two of them home pretty well intact.  I was disappointed though that my pepper garden photos do not show much color because our trip was early in the growing season and none of the plants I saw even had buds on them yet.  We did find a graveyard, but no stones with the name Csiacsek, Hasenstab, Schneller or Blais.  It was getting late, so we headed back to Osijek for the night.
The next day we returned to Zmajevac and this time had lunch at the Josic winery/restaurant.  In addition to the peppers, my family has a winemaking tradition that started right here in Baranja.  My great-grandfather Joseph Hasenstab and my father made wine, and now my brother Tom Csiacsek makes wine, so this place was a delightful find!  Before going in, we drove around and snapped more pictures of the village.  We happened upon the Josic vineyard and took pictures of that too.  Finally we parked the car and found a back entrance that led down a white brick enclosed stairwell leading to the restaurant.  Inside, the restaurant is housed in one of the surduks or wine-storing tunnels cut into the sandy soil of the Banska kosa ridge.  We sat at a table in one of the tunnels with oak wine barrels in the background.  At the front, large wooden barn-like doors opened to the outside where we could see an outdoor red brick oven with a large black kettle hanging over an open fire.  An enticing aroma filled the room that was a mixture of burning wood and some kind of spicy stew.  We had the waiter take our picture and asked if he recognized any names of family that had come from Vörösmart all those years ago.  He said although he did not think there was any of the Blais family left in Zmajavac, he knew the name and said his father would know more about them.  Our meal was divine!  I had a paprika-seasoned pike perch and my husband had a paprika seasoned venison stew.  The girls had spaghetti.  After lunch, the waiter led us right to the wine tasting room where we sampled several different kinds and bought two bottles to bring home.  My grandmother would be amazed!!
Still a very small village with a total population of only 974 (701 Hungarian, 178 Croatian, 10 Serbian, 85 other), the locals tell us Zmajevac is very different than it was 100 years ago when my grandmother was a girl.  Driving around we saw remnants of old houses and barns hiding behind overgrown vines, shrubs and trees, and broken down old fences and small wooden houses covering old water wells.  Perhaps we happened upon the house where my grandmother lived.  There were two churches we could find that looked as though they were old enough to have been there when my grandmother was.  Perhaps she was baptized and received her first communion in one of them.  I will never know, but at least I was able to walk the streets she talked about playing in with her friends.  She would be happy to see all the new beautifully colored stucco sided houses with red-tiled roofs and neat and well-kept yards.  She would be proud of the tidy, weed-free gardens that were common throughout the village.  She would be proud of the place she came from.
We suspect some of the old buildings with missing walls or large gaping holes in their roofs were left from the recent War of Independence that ravaged her little village in the 1990s, but there was little evidence otherwise.  The people were all kind and spoke not a word of the hardship and strife of war.   My grandmother also lived through war in this place.  Even as an old woman she held onto a fear of the Serbian soldiers that came into Vörösmart in World War I.  She said they took anything of value that could be carried away and destroyed most everything else.  They killed chickens and livestock and smashed open barrels leaving wine to drain out and soak into the ground.  With a smile she said after a time, however, the villagers began hiding things in haystacks, including their precious peppers and wine stock.
I am already dreaming of going back to this beautiful and intriguing place of my heritage.  I certainly feel a connection now and there remain many unanswered questions.  My great-grandmother had been a cook for a Hungarian General.  While there, I learned about Count Esterhazy who owned a large estate in Baranja around the turn of the last century.  Maybe it was him?  Perhaps there is a record of her employment there and perhaps I can find it.  Perhaps I can locate the book of names in Zmajevac and visit the house my grandmother lived in with her grandparents.  Of course, I will visit the winery and look forward to the food.  Most important will surely be to visit when the peppers are ripe and red.