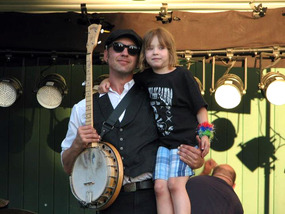 By: Jesse Kaftanski
A Beaver Dam family, their heart and their music
An old English saying, a cliche actually, states: "Home is where the heart is." This is true. In a nation where most families, at some point, left a home and crossed oceans or wide expanses of land to settle and grow, we have fond memories and traditions of the 'old world' – where we have been – but our hearts live and grow around the new homes where our family and close friends are found. Such is my tale of Beaver Dam. My hometown.
From an Atlantic crossing to a home in Chicago, the Kaftanskis were like any other family – looking for an opportunity to grow, prosper and offer more opportunities to the following generations. My great grandfather Roman Kaftanski lived in Chicago and worked as a tailor of fine men's suits. There with his wife Victoria, they bore and raised their two sons, Hubert and my grandfather Alvin. Stories in my family, as with most I am sure, run wild and seem larger than life with the passage of time. Some say there was a Capone-related shootout literally through the family car to its intended target that drove Roman to seek a new home for his wife and sons. The 'legend' goes that the next day he boarded a bus (or train?) and headed north into Wisconsin to seek this new home. While waiting for a transfer in Beaver Dam, he set out walking and found some men fishing on Beaver Dam Lake. They were welcoming to a stranger and had caught MANY fish. According to the story, that was enough for him. In 1925 he brought the rest of his family to Beaver Dam.
My grandfather Alvin was given violin lessons at Wayland Academy. This would become the cornerstone some of my family members would build upon for generations: A passion for music, and in a family, more importantly, a profession in music. Alvin and his older brother Hubert (known as 'Babe' to everyone else) would go on to perform in the community and surrounding areas for many years. In the beginning, there was The Son's of Rhythm, later becoming The Sophisticates of Swing. Sorting through boxes of old photos, I have seen them in what must be the old armory, on the steps of what is now the Beaver Dam Middle School, and performing at certainly each and every public hall and band shell for miles around. I have an original poster advertising The 44th Annual Fireman's Mask Ball with music provided by Al Paul and his Orchestra, just a few weeks after the attack on Pearl Harbor. But even World War II could not put an end to the music. Anyone familiar with the era knows how those songs and community dances carried the spirit of a nation at war. Alvin was a sergeant in the army air corps, playing saxophone, clarinet and violin. Upon returning from the war and marrying a beautiful farm girl (Virginia Hiedt) from Randolph, he owned and operated The Band Box Cleaners and Tailors (originally on the corner of Front and Center Streets below The Masons Club, and later in the building now filled by Expedition Supply). He built (by today's standard) a modest home on Lake Shore Drive and raised a family. His children were born and raised in Beaver Dam. Jan (my father), 'The World Famous' Bobby Evans, Victoria and Jim would all be touched by the music bug over the years, be it playing in the Beaver Dam High School band, various '60s teenage 'garage' bands or professionally on stages and in studios for years to come. Each would grow, leave home and eventually return to Beaver Dam.
My story is very similar, but I was not 'born' in Beaver Dam. Not even Wisconsin. Though I may have been conceived in a farmhouse just outside of Beaver Dam, I was born back east on the north Atlantic. Thankfully the heart of a family calls its own hometown. Beaver Dam welcomed me early on, from Kindergarten at Washington Elementary to the high school class of '91. All the while having lessons on grandpa Al's grand piano, violins, clarinets, saxophones, drums and guitars that were available throughout the family homes. During my childhood, concerts led by my grandfather with The Beaver Dam Civic Orchestra were still underway at the Swan Park band shell in the summer. My Uncle 'Bobby Evans' and my father always encouraged me to play (actually, practice, practice, practice). My father still amazes me at how he can just play on anything. Seriously, he can sit with ANY musical instrument and play. And Bobby…well, it is obvious to anyone who meets him or hears him play music why he is 'The World Famous…' My cousin Paul Sukowski, Alvin's other grandson (guitar/drums/accordion/etc), is currently pursuing an education at UW Oshkosh in Music Business. Another cousin Shannon Ballhorn, Hubert's granddaughter (upright bass) performs with her string quartet The Sophisticates of String. As for my story, in time I too would leave Beaver Dam, over the years living in Milwaukee and Madison. Supporting my family as a truck driver and always performing music. But no matter where I roam, Beaver Dam is always home.
And that, of course, brings us to The Mad Polecats. A band I began forming with family members while in Madison, before I moved 'back home.' If so much was not invested in merchandising, I may have altered the name to The 'Dam' Mad Polecats. Reflecting, it seems so natural that we would have begun to perform as a 'family band,' the perfect mixture of blood, heart, soul and rhythm. Sons, brothers, grandsons, cousins, nephews…there are many individual connections, but all stem from Alvin Paul Kaftanski, a Polish American musician who was the President of The American Federation of Musicians (Local 422). Truly through him, The Mad Polecats were born. A family's life with and love of each other, and many generations of music, brought together by a love of performing together.
Today I have two wonderful children of my own, a son Jake and a daughter Esse Jo. Both seem to strangely enough possess a love for making music. For now we play together at home for fun, but maybe someday…we will see how this tradition carries on. But that is their story to tell.
Publishers Note: This feature was originally published in our January / February 2013 print edition. Here is a song selection I thought appropriate for this week …