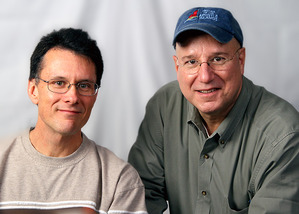 By: John Rummel & Mark Weller
When we started our project to capture a killer shot of the Milky Way in 2003, it became obvious that what we needed were dark skies, really dark skies! South-central Wisconsin, with farms and their ubiquitous mercury vapor yard lights, just would not cut it. A friend heard our complaining about light pollution and invited us to shoot in the backyard field of his permanent home located about 10 miles west of Mellen in the Chequamegon National Forest. Nirvana! We found ourselves the guest of famed conservationist and political insider Martin Hanson and some of the best dark skies in the upper Midwest, and the next five summers we spent chasing the perfect photograph of the Milky Way anchored by the wilderness tree lines that cry "up north."
This adventure was more artistic than scientific. We wanted to capture the most beautiful portion of the Milky Way – that which is visible only in summer when the region from Sagittarius to Cygnus is displayed in all its glory; brilliant colors, saturated details, the veins of billions of stars creating a blissful mosaic. But we also wanted to capture that image juxtaposed against the tree-covered horizon, anchoring the jigsaw to give the viewer a reference point. Using special equipment to counter earth's spin, opening the camera's shutter for four minutes, and coaxing the details to reveal themselves with some Photoshop help, we achieved our goal in 2008, after five marvelous summers of attempts. In September 2008 we presented Martin with a framed image taken in his backyard and titled it "Martin's Milky Way," our way of thanking Martin for putting up with two guys showing up for five summers with a van load of equipment and an insatiable appetite to capture something truly unique. Unexpectedly, Martin died in October of that year. We were at a loss. Our host, friend, and counselor, was gone.
As a way of saying "thank you Martin," we hatched a plan. Martin was the founder of the Friends of the Apostle Islands National Lakeshore. His history with Wisconsin's famed national lakeshore goes back to the early 1970s as a political insider with Senator Gaylord Nelson who authored the legislation to create the park. We wondered; what if we try to capture an image of the Milky Way draped around the iconic lighthouses that are so popular within the national lakeshore. We thought if we were successful, we could sell the photograph and donate the proceeds to the Friends of the Apostle Islands National Lakeshore in Martin's memory. In a series of meetings with the Friends organization and the National Park Service, we were given access in 2009 to the lighthouse and tower at Outer Island. Over 136 years old, it is a magnificent lighthouse in incredibly dark pristine skies surrounded by Lake Superior. Talk about an adventure! We succeeded in producing a magnificent photograph. Sales were brisk, especially after a column by Doug Moe of the Wisconsin State Journal mentioned one of the recipients of a print was Ken Salazar, then Secretary of the Department of the Interior. To date we have also photographed the Apostle Island lighthouses imbued with the Milky Way at Sand Island, Raspberry Island and Devils Island, and next summer we intend to photograph Michigan Island. We have donated over $80,000 to support the worthwhile programs of the Friends of the Apostle Islands National Lakeshore in memory of and to honor our good friend Martin, whose kindness to us seemed to know no bounds. Thanks Martin, we could not have done it without you!