Stump The Beaver

Jan 19, 2015 10:03AM ● Published by Erik Dittmann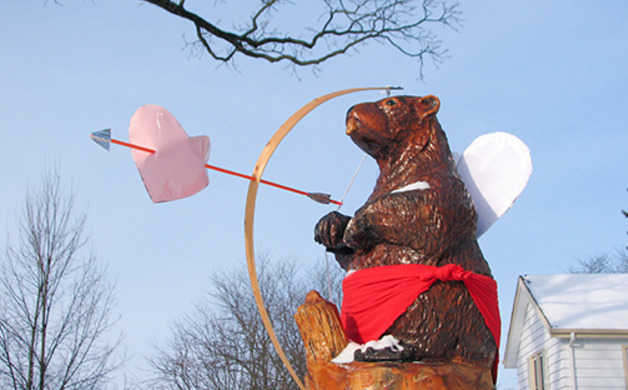 The Beaver on Valentines Day
By: Stump The Beaver

David from Beaver Dam asks:  Dear Stump, what do you do for a living?
Answer:  I'm a poser.  Every Sunday morning, I dress up and pose for a photograph. 
David asks a follow-up question:  What do you do with the photos?
Answer:  Two things.  First, I e-mail a Beaver Update to anyone who is interested.  Second, once a year I compile the photos into a Beaver Calendar, complete with exciting lists of daily events.  My children love the daily events and they let me know whenever an important day rolls around – like Cream Puff Day or Strawberry Ice Cream Day.  (INCIDENTALLY, the 2015 Beaver Calendar is available for $10 from Green Valley, Beaverland Must-Skis, Family Center Skating Rink, Seippel Art Center, Chamber of Commerce, BDCH Gift Shop, Change of Heart, Thirsty Beaver and Frebers.  Calendars are wonderful New Years presents and all the proceeds benefit local non-profits!) 
David asks another follow-up question:  I have a friend in Florida who needs a Beaver Calendar.  How can I make that happen?
Answer:  For the rock-bottom price of only $12, I will send a calendar anywhere in the United States.  Just make out the check to the "Dodge County Parenting Project" and send it to me (Stump the Beaver, 328 Park Ave, Beaver Dam, WI 53916), along with the name and address of your friend.  I have a couple of human servants who can handle the mundane mailing details, providing that I closely supervise them. 
Emily from Beaver Dam asks:  Dear Stump, is it better to be spontaneous or to make plans?
Answer:  It's better to plan.  I love the anticipation, especially for my children.  For instance, after Thanksgiving, my children began planning for Christmas.  Heck, they actually behaved themselves (translation:  marginal attempts at socialized behaviors, whenever I was watching) during the entire month of December, as they impatiently anticipated the arrival of Santa Claus.  On the other hand, my wife favors the spontaneous approach, especially around Valentines Day.
Kay from Beaver Dam asks:  Dear Stump, when dressing for work in the morning, my Dad always hums the tune from Father Knows Best.  I'm talking about five days a week – plus on Sunday when he's dressing for church!  Is this weird or what?  Should we boost his meds?
Answer:  You're lucky . . . my Dad sings Everything's Coming Up Roses, just like Ethel Merman, every time he sits on the toilet.
Send your questions to: Beav@LocaLeben.com and check out weekly updates on www.LocaLeben.com 
In Print
,
Today
the beaver