View From The Kitchen

Aug 07, 2014 04:39PM ● Published by Erik Dittmann
Gallery: View From The Kitchen: July/August 2014 [3 Images] Click any image to expand.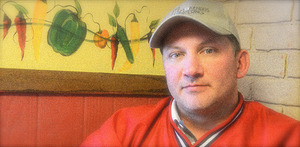 By: Chef Ron Dombroski


After visiting a Farmers Market, you might give your experience a second thought. Where do these beautiful Heirloom tomatoes come from? Pork shoulder sitting side by side with ramps? Magic!  This cornucopia of locally sourced beauty is a mystery to most, but with a little digging, you may find one of your favorite farm stands is right in your backyard.
With the recent craze of "Farm to Table" and "Local-sustainable," it is not surprising to see so many farms thriving.  Chefs have been embracing this philosophy for many years now and it is raising awareness for not only healthier eating but also supporting local businesses. Speaking of local businesses, how about a shout out to the vendor who sells organic soap, soy candles, organic honey and cage free eggs!  There's something for everyone at the Farmers Market.
I recently visited a couple of local farmers: The Plahnt Farm and Englewood Grass Fed Beef. The Plahnt Farm is on the outskirts of Fall River right off of Hwy CD. It is a family-run business and I've had the pleasure of meeting Josh the owner/farmer and his father Mike. The farm is very tranquil and quite large. It's easy to forget how much work goes into every head of lettuce and grape tomato you purchase at the Farmers Market. Josh did pick a couple bunches of shallots for me and for that I'm thankful.
I also visited Englewood Local Foods, which is situated in the Columbus West BP building. Kristi runs the store and they carry a little bit of everything local: vegetables from The Plahnt Farm, eggs from JRS Country Acres, free-range chicken and pork from Anisoptera Acres, grass-fed/hormone-free beef from Englewood Grass Fed Beef and natural soaps. On a side note, I did make some burgers using their beef and they were spectacular!
These farms represent about .0001% of all the local goodness to be found and I wish I had more time to visit them and space to write about them. An excellent website that I found is www.farmfreshatlas.org. Here you can find whatever you are looking for wherever you may find yourself in our great state.
As the saying goes, "If You Ate Today…Thank A Farmer!"  Happy Farming!  
Carnitas with Pico De Gallo
Tortilla (Corn or Flour)
Smoked Pork 4 oz
Chopped Cilantro
Lime Wedge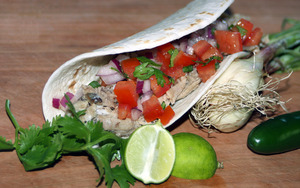 Pico De Gallo

Tomato, diced
Red Onion, finely chopped
Shallot, finely chopped
Jalapeno Pepper (1/2) seeded and chopped
Cilantro 3 sprigs, finely chopped
Scallion, finely chopped
Granulated Garlic ½ teaspoon
Salt & Pepper to taste
Squeeze of lime juice
In Print
food
recipes
july august 2014
farmers
shop local