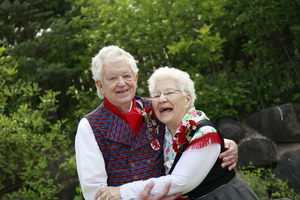 By: Roy Gentz

Editor's Note: These are excerpts from the 150-page book that Roy sent to me after seeing LocaLeben.
Preface
This book is to honor my father; Anton B. Gentz 1902-1947. I dedicate this book to my wife Joyce – who has unfailingly supported by many years of research into Pommern – that I can show her what a great and beautiful land she is the inheritor of.
This book is a memorial of my life. Different by the stories in alphabetic order. Some of the history, excerpted from books pertaining to my ethnic background. Especially my forefathers. It wasn't until my daughter Dawn stated that I should get some of the stuff I had accumulated and piled in/around my desk of my relatives that I should put it together in book form. It was when we went to East Germany in 1975, visited Dr. Gerhardt Genz, here I had a major breakthrough, as a wealth of hidden family history came to light. They had accumulated the Genz Genealogy back to 1580. I'm very proud of my background, my life, things I did. Any legacy I may have left to my followers or readers of this book, I hope will benefit you also. – Roy G. Gentz
DATING: Harry (Bunkoske) and I were real bummers as we both were from the farm and bashful. Harry and I were good friends in high school and continued through our marriage years. We would go to high school games and dances that followed. . . we attended a lot of wedding dances, invited or not, as generally they were free and had single girls around, as we were interested in girls . . . Harry and I would roam around the dance halls. It would be lucky and brave for us to ask a girl to take her home. We would stop at some hamburger joint, our most popular was "The Greek" in Horicon and have a Sundae or Banana Split. For two we would spend about fifty cents. We weren't no way rich, but made do with what we had and always had a good time. If we were low on money we didn't ask to take a girl out.
1946-47 New Years dance, having a good time, no money, so we didn't have any particular girlfriend, at midnight, as was the custom then, boys and girls whoever and anyone of the opposite sex and going from one girl to the next, kissing and wishing her a Happy New Year. I was kissing this one red head that I knew, when all at once, someone grabbed me from behind and started shaking me. I forced myself around and it was Douglas F. I said "Happy New Year" and got out of his way. I later learned he had brought this girl to the dance.
We liked to hang out in Beaver Dam at the 'Armory.' There was rollerskating, wrestling matches and here were generally the people of our age, here I learned how to roller skate with the help of two girls on each side of me to keep me up . . . Harry and I were still roaming the dance halls, bashful – scared to take her home and then ask for a date, mainly afraid of being turned down. We did take girls home, but really didn't date many. Blind dates were common in these early years and I was lined up with a few, but none were to my liking.
My cousin had dated Joyce and I saw her at a show in Horicon with my cousin and liked what I saw. She had all the right lumps/bumps. On May 17, 1947, at the Beach by Beaver Dam, Joyce and her neighbor's daughter Mildred Keel were dancing together on the dance floor and Harry Bunkoske and I cut in on the pair and took them home (three years later we married them). I had asked her where Marvin might be and she then told me she had come with the neighbor girl. I had to ask her a couple times how she spelled her name (Joyce Wrzesinske). I asked to take her home, she gave me her lipstick, comb, compact to hang onto. Harry hadn't asked his (he was bashful) girl Mildred, but she had to sit on his lap, as I had the Model 'A,' but we had agreed if the girls were willing to see us again that we would get together on the day/time. Joyce lived with her sister's family as live-in babysitter. We dropped Mildred off first; Harry walked Mildred to the door, made a date. The two girls only lived a half mile apart. Then I took Joyce home, she was a mushy one, we kissed several times, walked her to the door made a date and then I learned she was 16 years of age. Backing out the Wilson driveway, I backed over the mailbox (great impression?). July 4, 1947 we had a date, went to Hustisford dance and fireworks. After the fireworks a heavy thunderstorm with much wind took place. Heading for home, we had to detour a couple times and west of Oak Grove trees were laying in the road and we had to drive into the ditch to get around these fallen trees. Arriving home late, Dad couldn't believe that there had been trees uprooted and in the road.
I had a Model 'A' Ford so traveling too far was not an option. After taking Joyce home, my travel back home would take me past 2:00 in the morning and Daddy didn't approve of that at all, but my excuse of not being able to drive too fast didn't matter. After my Father passed away, I more or less inherited the 1936 Plymouth, then we could travel to further away dance halls. Dances in these years were held at various places, i.e. Wednesday, Friday, Saturday and Sunday nights. . . We would go to several dance halls in one night. . . The Beach was really the most popular; there also was the Amory in Beaver Dam, the Riverside in Kekoskee, Discher Park in Horicon, Gonnering's in Slinger, Triangle Inn in Juneau, Sivkow's in Hartford, the fireman's hall in Hustisford, a dance hall in Theresa, and there was a dance hall in Iron Ridge. We had a printer (this was a box of the alphabet in capital and lower case letters) and different colored ink, we would go into the bar and look at other peoples hand to identify the stamp being used, then we would go out to the car and copy the design to the back of our hand. (I guess this was dishonest in a way and I pray the Lord to forgive me.) Many times we would go to wedding dances, even though we didn't know the people and generally these dances were free. At the dance we could purchase beer or soft drink, age was not of much trouble, as there were many adults around and if anyone would get out of hand, one of these adults would generally straighten things out. Dancing was very popular . . . some dancing was done outdoors and (there were) lots of barn dances. Dancing was not held during Lent. . . Drive-in theaters were popular, and we did go when on dates and later after we were married went as a family. . . One time Harry and I took our future marriage partners to Milwaukee to the State Fair, and we had but three dollars between us, the girls made the picnic lunch, parking was free, admission was fifty cents, true it sounds cheap, but the dollar didn't come any easier either.
After Joyce and I became friends, our dates at first were like once a month or so. After about a year we started to date like two or three times a month. As Joyce was still in high school and worked at Woolworth's 5&10-cent store, downtown Beaver Dam (today the Ming Garden Restaurant). So I had my million-dollar gal in the 5&10-cent store. Sunday afternoons I would go to pick up Joyce and bring her to my home and after the chores were done we would go out to some movie or dance. Although we did break up twice (religious reason). My prayers answered and the LORD blessed me with a life long mate.