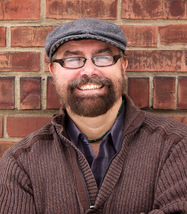 By: Lloyd Clark and Patricia Pawl

With the approach of fall, warm days, clear crisp nights and changing leaves on the trees, residents of our little burg have the opportunity to experience our town in a fresh and exciting way – on foot! Beaver Dam is a pedestrian's dream with only a few sharp hills, interesting landscapes and architecture, and beautiful homes on every street.
Autumn, the most anticipated of all Wisconsin seasons, brings out the best in Beaver Dam. The lovely tree-lined streets are awash in fall colors. The Golden Beavers take the field for America's favorite sport, football, representing not only our town, but our town pride as well. The lake wreathed in colors is majestically picturesque in the fall dusk.
Taking a walk around town, one of the first things you might notice is that Beaver Dam is unusual in that we do not have the most common street name in America, Second Street; instead, the street that once was known as Second Street is our Maple Avenue.
We have the obligatory streets named for Presidents – Lincoln, Washington, Madison and Jefferson, as you would expect in any small town, and we have streets named for businesses, Mill Street, and landmarks, Spring Street, that long ago defined our growing community. However, it is the streets that are solely Beaver Dam that makes our town special, in a Beaver Dam sort of way.
There is Mackie Street named for the town's founder Thomas Mackie. You can stroll eastward down the street from the Post Office and actually pass the spot where the first residence in our fair town was erected. Apparently during our Centennial in 1941, a large stone with a bronze plaque was erected to mark the spot. Unfortunately, the stone and plaque are missing. As you cross the empty field next to Beaver Gunite and behind Recheck's, you can hear, very clearly, water from the natural spring running through the underground pipes. This spring, after which Spring Street is named, is the very reason that Thomas Mackie built his cabin where he did.
There is University Avenue, named during a time that Wayland Academy was a functioning university. Beaver Dam's first cemetery, the final resting place of many of our town's founders, lies along its sidewalks. The feet of many German prisoners of war tread its length leading to where a major train station once stood.
However, there is one street, one that many may assume is spelled incorrectly, that is named for one of our most prolific early businessmen and public servants, Bogert Street.
Bogert Street is only two blocks long, and one of those is extremely short, running alongside Lincoln Elementary School between the aforementioned University Avenue and McKinley Street, another Presidential street. While many beautiful homes line the street, none of the "grand mansions" such as the Swan House reside there, just a lot of happy children.
I am sure that some of our younger residents will assume that Bogert Street derives its name from one of the mystical creatures in the Harry Potter books and films that takes the shape of whatever the person looking at it most fears. Adults often think that it is a misspelling of legendary movie hero Humphrey Bogart. Sorry folks, but Bogert Street was named for Robert V. (R.V.) Bogert, a true Renaissance man the likes that Beaver Dam, or even Wisconsin, had never seen before.
In the "History of Dodge County, Wisconsin" published in 1880, Bogert was identified as one of the most important and influential residents of an early Dodge County. The History states, "R.V. Bogert, Postmaster; was born in Claverick, NY, July 3, 1819, and came to Wisconsin the fore part of October 1849, locating in Beaver Dam; in Chenanago Co., NY, he received his early education and assisted his father on the farm; in Tioga Co., he was a clerk in a general store, after which he moved to Oswego, NY, and hired out to a firm to lumber-it up and down the Susquehanna River; this he continued for eight years; from Oswego he moved to Beaver Dam."
We do not know much about Bogert's trip to our lovely town or the general store that he opened when he arrived; however, we can set the scene in Beaver Dam circa 1849. A story in the October 17, 1924, Beaver Dam Citizen on early Berlin pioneer William Murkley quotes the 85-year-old on his recollections of his travels to Berlin as a 10-year-old boy: Although Beaver Dam could boast but one dwelling house back in the year '49, according to Mr. Murkley's memory of that momentous trip, it did possess a tavern.
"We unloaded our belongings at this tavern and then prepared our meal over an open fire," said Mr. Murkley. "The building had no windows and a dirt floor. There was burlap at the doors, and we used a tallow (a rendered form of beef or mutton fat) dip for light. With us we carried two goose-feather ticks (mattresses), pillows and two homemade coverlets. We slept on the ground."
Although he was but a small boy at the time, Mr. Murkley remembers distinctly some features of the trip. "The next morning I looked over the town," he said. "I remember seeing a 'coon perched in a tree and I watched the beavers make a dam."
From the recollections of Mr. Murkley, the Beaver Dam that Bogert came to in October of that same year was about as rustic as one could imagine.
Through an unlikely source, "Wisconsin Necrology – 1881," we learned that Bogert's mother Susanna joined him here in 1855 and that she passed away on June 11, 1881. Susanna lived to a ripe old age of 92. There were eight grandchildren from Bogert's marriage to Celinda Leonard. Though Robert and Celinda were married in 1844, there are no records showing that she came with him in 1849, or that she joined him at a later time. The US Census of 1860 does show the following:
Name: Robert V Bogert
Age in 1860: 40
Birth Year: abt 1820
Birthplace: New York
Home in 1860: Beaver Dam Ward 4, Dodge, Wisconsin
Gender: Male
Post Office: Beaver Dam
Household Members:
Name Age
Robert V Bogert 40
Celinda G Bogert 37
Agnes M Bogert 14
Robert V Bogert 12
Henrietta Bogert 10
Henry L Bogert 8
Lucy O Bogert 5
Nellie Bogert 4
Charles H Bogert 1
In 1860, Bogert would have resided in Beaver Dam for 11 years and five of the Bogert's children were born here.
Bogert's entrepreneurial nature, and varied business interests, became the financial foundation for our town to build on. It is not known how successful he was running his general store. We do know that in 1852, Bogert, Mason Darling, John Eastman, E.W. Drury, Abram Ackerman, Robert Earll, James Lewis, J.C. Axtell, D.E. Bassett, A.G. Cook, John Carlin, John Y. Smith and Simeon Mills were appointed commissioners of the newly incorporated Fond du Lac, Beaver Dam, Columbus and Madison Rail Road Company. The railroad connecting these growing Wisconsin towns would have run along roughly the same path as Highway 151. However, it seems that the railroad never got off the ground. This is probably due to the incorporation of the La Crosse and Milwaukee Rail Road Company the month after the Beaver Dam line, which ran through Beaver Dam and Fox Lake and connected our town all the way to the East Coast. Railroad speculation must have been lucrative as it is noted that he was also listed as an investor in both the La Crosse and Milwaukee Rail Road Company and the Milwaukee and Mississippi Railroad Company. We know this because he is noted in several equity sales of railroad stock in the First Annual Report of the Wisconsin Railroad Commissioner and one Wisconsin State Supreme Court case Truman v. McCollum.
Bogert continued his forays into finance, as he was one of five men to sit on the inaugural board of directors for the Dodge County Fire and Marine Insurance Company in 1853. Bogert was in some very distinguished company, as the other four members were William Farrington, Judge Samuel L. Rose, Lewis Schuyler and Robert Norris, all leading citizens of our town at the time. Judge Rose and Bogert shared an unusually strong business and personal bond. Insurance must have agreed with Bogert, as he was involved in it to a tremendous degree. According to the "History of Dodge County, Wisconsin," he went on to represent these insurance companies: Liverpool & London & Globe; the Royal of Liverpool; the Lancashire of Manchester; The Queen, of London; Continental, of New York; Watertown, of New York; Northwestern National, of Milwaukee; Northwestern Mutual Life, of Milwaukee, and the Traveler's Accident of Hartford. It's obvious that in the late 1800s, if you were in the market to purchase insurance, Robert Bogert was the man to speak with!
If that were not business enough to keep a man busy, in 1855 until 1860, according to the Annual Report of the Bank Comptroller, he and Judge Rose formed and ran the Dodge County Bank. The Report lists Judge Rose as President and Bogert as Cashier. In 1860, the year of the first of a string of bank crashes, Bogert owned the majority share of the bank with a value of $16,700, a fortune at the time. Bogert was also listed as the President of Waushara County Bank in Wautoma; however, according to the report of 1861, neither of the two banks filed reports for 1861 and had closed down.
That was not the extent of his business interests in Beaver Dam. The year before his mother arrived from New York, he partnered with S. Lewis forming Lewis and Bogert, investing in the Empire Flour Mill and the Woolen Manufacturing Company, two of Beaver Dam's most profitable companies. The company of Lewis and Bogert lasted for seven years, until 1861, when his election as Mayor spun him off into a new direction – public service.
It would be a tremendous understatement to say that Robert Bogert was a man of varied interests. He was our Town Treasurer in 1851-1852; our Mayor in 1861; U.S. Assistant Assessor for Dodge County from 1862-1865 and was reappointed to the position in 1868, holding it until the position was eliminated. In 1876, he received the nomination for the final public service position of his life – Postmaster of Beaver Dam.
In the Executive Journal of the Senate of the United States, on January 13, 1876 it is written, "I nominate Robert V. Bogert to be the postmaster at Beaver Dam, in the county of Dodge and the State of Wisconsin, in the place of A.J. McCoy whose commission expired on the 11th day of January, 1876. U.S. Grant, Washington, D.C. January 12, 1876."
Beaver Dam was classed as a Third Class Post Office and Bogert received only $1000 a year in salary. Though his salary rose to $2000 toward the end of his term, this was no doubt a hard pill to swallow for a man that been so involved in finance and politics and who had invested heavily in both the railroad and banks.
The obituary for Judge Rose, who had partnered with Bogert on many projects including the banks and railroads, stated that Bogert was nearing death as well. In the Milwaukee Sentinel of March 15, 1887 it says, "There in Beaver Dam, on opposite sides of the street, have been lying on their death-beds two men whose careers were similar in some points, Robert Bogert and Judge Rose. The former is at death's door, the latter dead. Both were once very wealthy and both, after quite similar ups and down, quit life as poor men." Robert V. Bogert died Sunday, March 20, 1887, at the age of 67. He is buried in the City Cemetery.
If you want to take a walk and see the house in which Robert Bogert and his family lived, do not walk down the street named for him. Instead go to 212 West Maple Avenue. Bogert owned quite a bit of property in the area, including the entire section west of Water Street from the lake up past Maple Avenue. The home still stands and it is fitting that for a man who gave so much to our town, his home would be the location of our first city hospital.
The August 14, 1907, edition of the Dodge County Citizen heralded that Beaver Dam would have a hospital. The Sisters of St. Mary Hospital in Beloit, through their representative Rev. Robert Wall, past of the St. Patrick's Catholic Church, purchased the former J.J. Williams property on Park Avenue. Remodeling was expected to take place in 1908, but proved too costly. This appears to be the same property referred to in the 1960 St. Patrick's Centennial History, which states that E.J.M. Hale purchased a Park Avenue property in 1909 and donated it to the Archdiocese of Milwaukee for use as a hospital to be named the Hale Hospital. This hospital plan also fell through.
In 1912, however, an effort to open a hospital led by several doctors, businessmen and citizens succeeded.
An important step was locating the hospital. With few residents owning automobiles, a central location was necessary. Arrangements were made to lease the Old Bogert house on Maple Avenue. At the time, it was being extensively remodeled by owners Joseph and George Heimler. The two-story building had such high ceilings that they were taking out the floors and converting it to a three-story building.
A fund drive was held to obtain the funds to furnish the rooms. The September 12, 1912, Dodge County Citizen reported on the success of the fund drive and noted that the following people were furnishing rooms: Briese & Heilman, Mr. and Mrs. T. L. Newton, Mrs. H.B. Sherman, Mr. and Mrs. W.D. McKinstry, Mr. and Mrs. Edward Beichl, Mr. and Mrs. J.E. McClure, A.B. Chandler, Mrs. M.B.M. Peacock, Mrs. J.J. Dick, Congressman and Mrs. M.E. Burke, and Wayland Academy. In addition to the eleven rooms, one ward of four beds had been furnished and $1,640 had been raised for the maintenance of the hospital. The goal was to raise another $400 to $500. A list of the names of all those who contributed was published along with the people noted to be furnishing rooms.
Everyone who contributed to the hospital became a member of the Beaver Dam Hospital Association. A meeting of the Association was held in City Hall in mid-September to elect officers. The first Board of Directors for the hospital was comprised of John A. Miller, George B. Swan, M.A. Jacobs, John V. Zweck and L.A. Briese.
The services of three experienced nurses from Trinity Hospital in Milwaukee had been obtained to take charge of the new hospital. The October 3, 1912, Dodge County Citizen noted that Miss Hellwig was at the hospital getting things ready. She was soon to be joined by Miss Fuchs and Miss Hogan. The article goes on to state who the hospital would serve: "For some reason or other, a fallacy has obtained among the doctors as well as the laity that the hospital is only for surgical and operative cases. This, however, is not true. On the other hand, the hospital is the safe place for a case of typhoid, pneumonia, appendicitis, peritonitis – in fact, any illness of sufficient seriousness to require daily visits by the physician and an attending nurse, or where much nursing or attention is required on the part of members of the family or friends."
On October 23, 1912, the doors to the hospital were opened to the public to visit and inspect. The hospital already had a number of cases with little Noble LeHew being mentioned by name. Noble had his left eye injured while playing with friends.
The hospital operated for eight years. In 1920, the building was again converted to flats forcing area residents to travel to Columbus, Madison, Fond du Lac or elsewhere for hospital services until The Lutheran Deaconess Hospital opened in 1922. Since then, the Beaver Dam area has enjoyed continuous hospital service.
One hundred years after being the home of our first hospital, the building at 212 West Maple Avenue, and all its history, still remains as a proud part of the Beaver Dam landscape. We are lucky that so much of our early architectural history still exists. It makes every walk an adventure in the past, with history literally at your feet.