Digital Edition: November / December 2013 Digital Edition: November / December 2013
From The Editor

If you remember way back to our premiere issue two years ago, I said, "this is not my magazine. It is your magazine." It is a weird idea – but it has worked. You as a community have built this magazine into what it is today. Your unique contributions are the content – we just give you a place to share it. But there is more! Now we have the ability to be up to the minute online.

We invite you, local non-profits, service groups and clubs, to send your press releases to us at content@localeben. The intention is to create a truly community-generated source for local information and events. Most importantly, the information on LocaLeben.com is FREE to view by anyone. No subscription, no paywall.
We have been extremely humbled by the participation we have seen from you our readers on LocaLeben.com. In just a couple months you have taken it as your own by submitting events and made it the place to be for local events through our online calendar. It is exactly what I had hoped.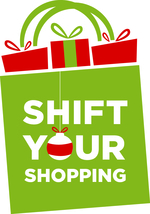 Please keep it up! It is only what you make it.
A major part of what LocaLeben strives to do is help create stronger support for local businesses. This holiday season we are participating in a national movement Shift Your Shopping. The idea behind this movement is to encourage people to think local first during your holiday shopping. By thinking local first this holiday season, we strengthen our local economy, expand employment, nurture a sense of community and provide a more relaxed, fun and rewarding gift-buying experience. Join us in shifting those dollars – we will all generate 2-3 times as much economic activity than if we had spent our money at a national chain. One great stocking stuffer is the 2014 Beaver Calendar. We have partnered with The Beaver to raise funds for the Family Center and the Dodge County Parenting Project – details are on page 31.
Finally, I invite all of you to our Annual Anniversary Party January 11th to celebrate what we have accomplished together. See details on page 34 and online at LocaLeben.com.


Artist Feature: James Milton Smith
"James Milton Smith. He's got talent. Incredible, unmistakable talent," I hear. And not just once in a while either. These words flow freely. Often. Unsolicited. Candidly. At times, Smith is as popular as the Packers in Wisconsin, a beer with a brat and turkey on Thanksgiving. His work can be singled out in a crowd like a celebrity appearance, paparazzi at the ready. Read more

The VanHarens: BDACT's Original Star Couple
Roger and Marilyn VanHaren have been the "star couple" for Beaver Dam Area Community Theatre for almost 50 years. In 1964, they joined area enthusiasts to form what was then Beaver Dam Community Theatre and have remained loyal, active members, participating in every aspect of the organization's success. Read more

ASeed
ASeed seeks to carry on the tradition championed by Satre. Ideas are not created for brief consideration. Ideas are meant to be played with. Read more

No One Forgets Their First
Thirteen years ago I sat down with the Beaver Dam Area Orchestra to play Rhapsody in Blue. It was sort of the culmination of my "high school years." Read more

Beaver Dam's Favorite Dad
There is one individual, a self-professed "lazy" person, who was a football, baseball and basketball star for our high school; played in the prestigious American Legion Band; and went on to appear in over 85 Hollywood movies, who will always hold a special place in our history: Fred MacMurray. Read more

Legend & Lore: McKinstry's
I was standing at McKinstry's Home Furnishings sales counter, eagerly fingering my debit card as the saleswoman retrieved my newly matted and framed picture. A collection of old McKinstry magazine covers dated in the 1920s caught my eye above the counter. I was astonished and romanced by the idea that the store was so old having no idea the story was even more interesting. Read more

Viewfinder: John Walcott
He grew up at his father's feet in the darkroom, watching his mother [Frances] hand paint portraits, helping in the studio and assisting his father [Mert] photograph sports events, confirmations, large first communion groups and weddings. Read more



Christmas Memories
The nights are getting longer and the temperature is dropping. The trees have shed leaves and their bare branches stretch to the sky. Little witches, goblins and ghosts have begged for goodies at our doors. We are moving quickly into early winter. Can Thanksgiving be far away? Thanksgiving, and then CHRISTMAS… Read more
This & That: Skyline
Throughout this wondrous world there are many cities that can be identified by the iconic look of their skyline. Skylines often give a city its distinctive identity and panache. You can often identify a city just by the silhouette of its majestic buildings. Read more
The Wandering Man: A Bedtime Fairy Tale
How are you? I was glad to see you when I did; "Oh Brief Encounter!" I had said I would write, and I have been at it ever since! Read more
Inquire Wisconsin: Coming To Wisconsin
Greetings dear readers! Rudy Roding here to bring you the first of many inside looks at the mysterious people of Wisconsin. The inhabitants of Wisconsin are part of a varied and fascinating society and I hope to bring you, my readers, an exclusive inside look into the lives of these colorful and unique people! Read more

Stump The Beaver: November/December 2013
As a fundraiser, The Family Center Ice Arena in association with the Dodge County Parenting Project is selling BEAVER CALENDARS featuring mug shots of yours truly. These are bound to become collector items since there are a limited number available. Read more

For My Children: Chapter 5 – Summer 1923
I was playing outside with my little girlfriend when my Mother called me into the house. Much to my amazement we proceeded to wash my hands and face and after changing into a clean pinafore, we started to walk toward the schoolhouse. As I was to learn in a very short time, this was the day I was to be registered for school. Read more
Parting Thoughts: November/December 2013
This time of year is when we begin to get a little sentimental – this year perhaps more than ever. I had the good fortune of celebrating my 60th birthday in September (is it a particularly popular month to be born?) anyway – I made it! Read more
Back Cover: "Steamy Night Air" by Julie Zahn