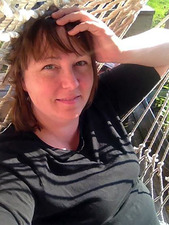 By: Jamie Kratz-Gullickson
As a young couple, my husband and I would travel between our families in Edgerton and Green Bay respectively for almost every holiday, usually during the 24-hour time span of the actual special day. When we were in our 20s, this was exhausting. Then along came our daughter who vehemently protested such insanity and we started dividing holidays. This led to angry grandmas and let me tell you, hell hath no fury like a grandma scorned, especially my German one. All that family togetherness and joy making the holiday special…not happening.
Each year, the complexity (and the frustration) grew. When my first nephew came along, we found ourselves coordinating between three families so the cousins could be together. When my folks became snowbirds, flying off to Arizona for six months of the year, we faced moving the holiday out of state. Then my husband's brother added some kids and chaos ensued. Holidays became hostile, something you fought over. I felt a bit like I was at the helm of a giant game of RISK(c) and if I didn't take Australia early I had no hope of world domination…I mean world peace.
Enter Thanksmus, our invented mash-up holiday. We toyed with the idea of Christgiving, but that teetered on sacrilege. Thanksmus brings my family together (somewhat less bitter grandmas included) sometime in late November/early December at a pet-friendly hotel's breakfast nook for dinner catered by the neighborhood deli. We eat, exchange gifts, swim in the hotel pool, and if the stars align with Black Friday, do some late night shopping. No stress, no mess. We even feed the hotel staff working that day as a way to thank them for politely ignoring our brood of barking dogs that are included in the fun.
Thanksmus was such a success it birthed Pumpkin Day. Pumpkin Day is a September/October Saturday of tractor rides, pumpkin picking and a visit from the Great Pumpkin, because, of course, Grampa's is the most sincere pumpkin patch – even if his pumpkins are smuggled contraband from the farm down the road.
Soon to follow was Measter at my in-laws. Still in its youth, this event occurs on a day in April/May selected for its good weather and involves an outdoor egg hunt, flower baskets, brunch and celebrating moms.
Not to forget our dearest friends – the ones we wish were family, the ones struggling with the same issues of time greedily devouring the joy of gatherings. We attend semi-annual camping trips together to Wyalusing and Devil's Lake State Parks where we celebrate each other over marshmallows and home-brews and let our kids run wild in the woods for three days without showers.
The point is this – when all else fails, make it up. Coming together to celebrate life and family and friends is the tradition, it doesn't matter what day it falls on or the trappings it carries; happiness is the part we want to remember when we grow up.