July/August 2014
To The Reader –
It has been quite the whirlwind the last few months. My fiancée just found out she has a new job right here in Beaver Dam; we have been renovating our house and, most importantly, planning our wedding, which will be July 26th. I promised her I wouldn't spend my entire note to you saying how wonderful she is and how thankful I am to be building a life with her in our hometown. So, instead, just this paragraph.
This issue has been one of those where things just came together, all because of the people in this community. One contributor, Joanna Grey, was visiting the Dodge County Historical Society from Virginia the exact time I was there. We got to talking and she jumped at the opportunity to share her family's story. Our cover photo was another great moment when the universe just delivered. Walking through the Swan City Car Show looking for our annual car cover, this majestic yet gritty Mopar pulls in just as we walk up. My mind was made up. However, we needed a place where we could photograph this 1966 Dodge Charger to really do it justice. Dennis Steinkraus generously allowed us to photograph the car in his building, which we are incredibly grateful for. Without access to that location, we would not have been able to have such an outstanding cover. Noah Katsma's final image is a compliment to both the car and the location.
These enormously generous people, who are creating great things for you, live in our community! LocaLeben.com is dedicated to having a place for you to discover what is going on all around the tri-county area. The website is all created and posted by people in the community. We just went through a redesign to make it even easier to find what you are looking for. The stories are broken down to these categories: Arts & Entertainment, History, Lifestyle, and Community News. We are always looking for more non-profits, organizations and passionate community members to contribute. It is easy and free!
We are also offering an email newsletter to help you live – life – local. There will be coupons and offers from our advertisers along with a weekly summary of the stories and news from LocaLeben.com. Just text LEBEN to 44144 if you want to join.
Live Life Local –
Cover Photo by Noah Katsma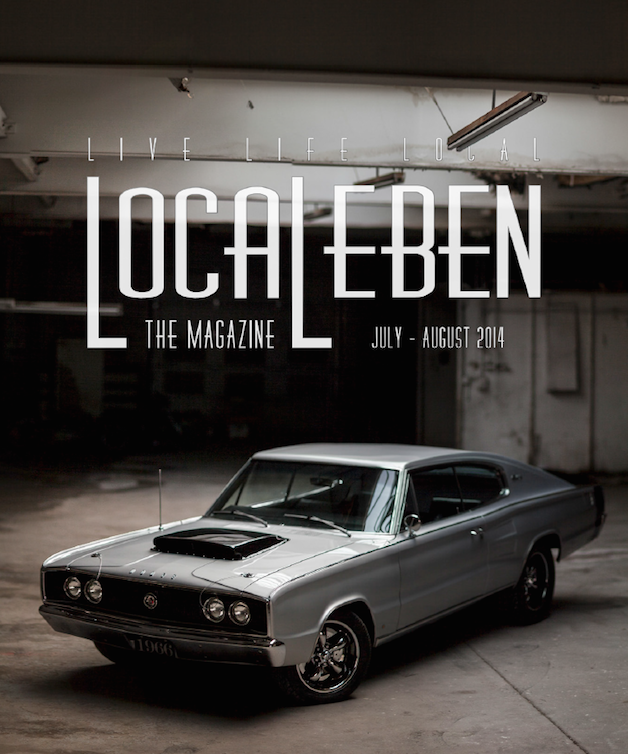 Five years ago I set out to find a unique car to restore. The search was easily slimmed down to only a Mopar.

I had come to the Rogers to meet with building manager Joe Murray, a gentleman that measures his tenure there not in years, but in decades.

Baseball, apple pie and session beers, sometimes known as lawn mowing beers because of their refreshing qualities; session beers are hands down my favorite beers.


Tracy from Orlando asks: I understand that beavers are skillful builders of canals, lodges and dams. Are beavers responsible for anything else of importance?
When you start to have a family, people tell you that before you know it, in the blink of an eye, your kids are grown and on their own.

Imagine a boy growing up in the 1930s and 40s so enthralled with comics that he spent hours copying intricate details of long ago illustrators. They fueled the imagination of young dreamers everywhere.

The story of family is one that I never tire of learning about. It is a story rich with success, failure, strength and weakness.

This cornucopia of locally sourced beauty is a mystery to most, but with a little digging, you may find one of your favorite farm stands is right in your backyard.
As a young couple, my husband and I would travel between our families in Edgerton and Green Bay respectively for almost every holiday, usually during the 24-hour time span of the actual special day.
Recently, I learned how to study and practice coasting with my car. I felt like a third world kid discovering that something on wheels moves.

Dear to her heart is the statement "Love what you do, do what you love." She loves making memories from behind her camera…

Dr. James Berry had a vision of helping local students obtain higher education. He and other local concerned citizens met to brainstorm about how this could be accomplished.

He was one of the city's first successful entrepreneurs; a man whose ingenuity and ambition helped to shape the efficiency and importance of agriculture.
Well here we are: – Volume 3 Issue 4 Wie geht es dir?