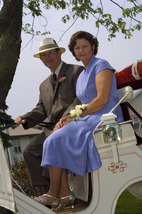 By: Marcia Haase
As a child, the only thing I really, really wanted was a horse. I read books about horses, drew pictures of horses, and of course, pretended to ride horses. I dreamt about my perfect horse – a beautiful bay steed with white socks and a white blaze down his incredibly handsome face.
In 1987 my husband Steve and I built our home in the country and, eventually, for my lifelong dream of owning a horse, a barn. Our first horse was exactly what we needed . . . calm, well trained, tolerant. But she was quite aloof and not affectionate. In 1995 we saw an ad for a Clydesdale for sale. The price had to be a misprint, but Steve said, "Call them up." Thinking we would find some old nag, we were blown away by this magnificent animal. We both fell head over heels in love with Cdric Shana Supreme Selector Ideal (AKA Bonnie).
The next step was acquiring a harness. When the giant box arrived, we could not figure out how to put all the pieces together. Steve asked longtime horseman Billy Zahn to help us. When Steve slipped the collar over Bonnie's head, Billy quietly walked over, flipped it 180 degrees and said, "I find it works better this way." I am not sure how Billy kept a straight face!
The following year, we went to the national Clydesdale sale and found the draft horse world to be warm and welcoming. As a very pregnant mare came through the sale, the auctioneer slammed his hammer and pointed to the buyer. As I turned around, I realized that it was Steve. In short order, we went from one Clyde to three, and the multiplication continued on from there.
Most farriers prefer not to work on draft horses, so Steve went to classes and started shoeing. It is backbreaking work, and each horse needs to be trimmed and shod every six weeks. It seems like he just gets done and it is time to start the cycle over again. We also train our own horses, working them in the round pen and eventually hooking them to an experienced animal. The horses learn to pull farm implements and show equipment, and we also ride them.
Over the years we have enjoyed our animals immensely, but we have also endured the pain of losing them. Clyde foals can have all kinds of complications. When a foal cannot stand to nurse, you need to milk the mare and feed the foal with a bottle and nipple. We took turns on duty day and night, and sometimes it was just easier to sleep in the barn. One of the most touching moments of my life with horses happened one of those nights. A foal named Homer dragged himself across two large stalls to lay his precious face next to mine. Putting Homer down was extremely difficult. He was perfect in every way, but his mind could not tell his legs how to walk.
Showing horses is far from glamorous, at least for the humans. The horses stay in nice stalls, each with their own fan with plenty to eat and drink. Humans endure bad fair food, slimy showers and the dreaded porta-potties. The animals get bathed and primped, while humans are hot and filthy. Some horses get nervous and try to take a tent down or go running through the campsites, while others might fall or flip over while hitched to a wagon. Oh such fun. There is a lot of genuine camaraderie among the exhibitors however, and we have become friends with many.
At our very first show, there was a group of guys standing around, and one of them asked if we could use some help. With Steve's resounding, "yes," they were adjusting this and fixing that. Then they disappeared. When Steve drove into the show ring, we found out that these guys were our competitors. This is common in the draft horse world. We all help out when we can and lend equipment when needed. If you have a problem with a horse, there will be six or eight people coming to your aid. We have seen it time and time again.
A scotch show collar weighs 75 pounds, and the rest of the harness is heavy as well. In fact, everything we use and haul is big and heavy. The hitch wagon weighs a ton (literally), and getting it in and out of the trailer can be a challenge. Horses have to be groomed, washed and bedded down the night before an event, and it is a lot of work. Our son Jonah is a natural with horses and was an integral part of our crew until he moved to California. Our friends Steve and Dawn Krezinski have been our right hands. We appreciate them more than we can say.
Other than showing at fairs, we have exhibited at the Midwest Horse Fair, participated in a program via the Smithsonian Institute, put on a presentation with author Jerry Apps, done weddings, wagon trains, carriage events, a multitude of parades and hayrides, appearances at Old World Wisconsin, and of course, the delivery of our daughter to the altar the day of her wedding.
Even though they relish the blue ribbons from shows, 'my two Steves' favorite event is Old World Wisconsin. For more than ten years, the Hazienda Clydesdales have made the trip each May and October to give rides on the antique Omni bus or pull farm machinery with our draft horse club. Visitors are full of questions, and there is nothing those two guys like better than talking about horses.
We have been honored to have our Clydesdales appear in several national publications, calendars, state tourism magazines and Old World Wisconsin flyers. They grace the cover of a special edition book about Clydesdales, and a four abreast pulling a sleigh was selected for the cover of a magazine. Our 4-up currently is on the cover of a Wisconsin Horse Council brochure – Sweet!
Bonnie started all this insanity, but she turned out to be the horse of my dreams. Not long after she came to live with us, the whole bunch was home for Christmas, and the house was full of noise and activity. To get a few moments of quiet, I took a walk out to the barn. Bonnie stood statuesque in the dim light of a late winter afternoon with big flakes of snow quietly falling. This huge animal was still overwhelming to me, and she exhibited quite an attitude. I turned the electric fence off to avoid becoming part of the Christmas decorations and just sat quietly on the upper board of the fence. Bonnie plodded over to me and laid her giant head in my lap. The next thing I knew, I found myself sliding onto her back. We just sat quietly in that spot with the snow falling. Breathing in that smell that only horses have and feeling the warmth of this mare's broad back, I thought that I had died and gone to heaven.
As the years went by, Bonnie and I had a ritual after chores were done. I would sit on the big tire feeder as the sun was setting, and she would walk over and hang her head over my shoulder. It was usually a peaceful time of day with the wind dying down and the colors of the sky providing visual diversion.
When Bonnie passed away at the ripe old age of 23, our daughter Julie and her husband Jonas did something very special. They arranged for a taxidermist to harvest Bonnie's hide and have it tanned. At first I was a little creeped out, but I had a horseman once tell me that a faithful horse is happy to serve their master both in life and in death. Weather does not penetrate a horse hide, and on a cold day that faithful horse will keep you warm. Bonnie's body lies comfortably on our property, but part of her lies over the banister upstairs. I run my hand across her back and down her mane every day. She continues to be part of our life.
Childhood dreams can come true.