By: Lena Reis
It's so good to be alive! Let's see now, I've hoed the garden already this morning and watered all my flowers. Guess I'll just relax on the chaise lounge outside and absorb some of this gorgeous sunshine today.
I'll pull the shades and close the drapes in the living room and dining room before I go out. Don't want the sunlight to fade out the couch and carpet. The couch really could stand replacing. It's beginning to show wearing pretty badly. Maybe this fall. Like Joe always says, "Everything in due time." That couch really looks inviting now with the room all shaded. But once I lie down, then I'll just turn on the TV and get all involved in those silly soap operas. They do have a way of growing on you once you start with them. No! I'm going outside and relax in the sunshine.
I sure hope the phone won't ring. I just want to relax and reminisce. But just in case it should ring, I'll leave the north window in the kitchen open and in that way I'll be sure to hear it. It shouldn't though. Just talked to Hilde and everything is fine at her place. The boys are outside as usual. It seems that their energy never wears out. Werner and Patty are both at the hospital working. So they're all right. Called Joe's mother this morning and everything is fine there. Please telephone, don't ring. Seems every time I answer you an hour or two is gone and it's just too beautiful outside today to be spending my time here in the kitchen talking with someone. Guess I'll take the garbage out with me right away and dispose of it, then I won't have to do it later on.
This weather is simply too nice to describe. Think I'll pull the lounge over here closer to the trees. I read somewhere that too much sunlight is conducive to premature aging of the skin. If that's true, then by this time I should look like a wrinkled old prune. Why, with all the time I've spent out in the fields and now in my garden.
Ah, this lounge is pure comfort. I'm glad Hilde's friend gave it to us instead of throwing it away. With this new cushion I bought for it, it's just sheer bliss. Today is one of those rare days, which Southern Wisconsin enjoys every once in a while during the summer, when it's quite warm but the humidity isn't so terribly high. It's that darn humidness which makes it almost unbearable to move from one spot to another.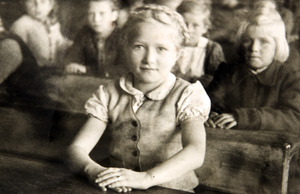 It's so still out here with just a few clouds, like little wisps of cotton suspended in that baby blue sky. Nothing is moving except the bees, which are gorging themselves on my roses, forget-me-nots and those red flowers whose name I can never remember. Why look, even Joe's two Herefords are half asleep in their little pasture peacefully chewing their cud. The flies are even too content to bother them too much today.
The house sure looks beautiful now. It didn't look that way five years ago when we bought the place. I put in a lot of time and sweat cleaning it and painting it. Why those bedroom walls had all of six layers of wallpaper on them. I turned into a regular handyman before I was done with the inside. But once we finished, it certainly looked nice. I wouldn't let any of our friends come out to see us until we were all done and had the carpeting down, the draperies up and the new linoleum on the kitchen floor. The house was a real fooler because it looked so small from the outside. People were really surprised once they were inside though. Of course, now with the new addition that we had put on last summer, it looks twice as big. I now have a beautiful dining room and the kitchen is twice as big as before. And the new roof and aluminum siding transformed it into a brand new home.
I'm so happy we bought this little place. Our friends thought at first that we were rather silly moving out so far. But we're only twenty minutes away from Joe's folks in Milwaukee. Besides Joe is so happy with his little farm and his few head of cattle that I don't think we'd ever move back to the city. I even have fifteen laying hens which keep the whole family supplied with plenty of fresh eggs. We lovingly call this our "Little Ponderosa."
I bet fifty years ago my mother never dreamed that squalling, wrinkled undersized little mite of a girl she had just given birth to would some day have all this to herself to enjoy and love, much less here in the United States. Yes, we've come a long way from Palesnik, Yugoslavia, to this our little heaven on earth. We've not only covered a lot of miles but have shed many a tear and have overcome many disappointments and heartaches along the way to attaining this peace and tranquility.