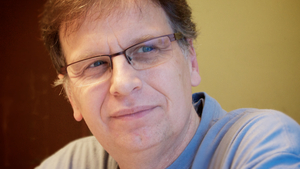 By: Dave Bowman
In the world of astronomical marvels, we can sometimes overstep our bounds by promising "the sun, the moon, and the stars!" In the sporting world, there is nothing more graceful than a well-executed triple play or the resounding heroic hoof beats of a thoroughbred winner turning that last corner heading toward home to achieve the ultimate in sporting accolades – The Triple Crown. In the vernacular of the equestrian sport, our household will be enjoying a "trifecta" this year.
The completion of an education is exciting and nerve wracking at the same time. While trying to remember what it felt like to have your whole future before you, to make it what you will, I now gaze upon two of my sons about to embark on a journey many have traveled before. The oldest will be graduating from the high stress world of college life – "Man, do I REALLY need to wash my clothes this week? Or can I just put them under the mattress to make them LOOK ironed?" He will be receiving his degree in advertising and marketing, and I cannot wait to see him run advertising rings around Larry Tate and Darrin Stephens, the original "MadMen" from "Bewitched."
Right behind him in the rearview mirror, his younger brother will be leaving the confines of Beaver Dam High School to begin his own adventures. I know he will regale family members at every holiday gathering with his heroic stories about how he wore the fake beaver tail, on the class float, during the Homecoming Parade, with humility and pride, telling them "I will ALWAYS be a Golden Beaver!"
And amidst the upcoming hubbub, their older sister, my only daughter, just had to get herself engaged. It certainly is a moment when you pause and take account of all that has passed before. From holding her when she was just a baby, to guiding her through her school years and sending her off to become an independent young woman.
It is a joy and a privilege to see your children blossom and strike out on their own, and it reminds us of what is truly important in life – faith in God, family, and friends. When midnight tolls on New Year's Eve 2013, the classic lyrics from "Ol' Blue Eyes" Frank Sinatra will certainly come to mind – "It was a very good year."