By: Karla Jensen
BDAAA – Beaver Dam, WI
There is a little-known eclectic art gallery tucked away on a second floor flat near the corner of Lake and West Streets in Beaver Dam. It is cozy and friendly with wall-to-wall artwork you might find in out-of-the-way corners of Door County, Cedarburg or somewhere on vacation. The artist who greets you at the door is proud and welcoming, while his voice is as friendly and robust as the art inside. His wife apologizes for the disarray of the studio, but you can tell she is equally as enthusiastic about the quality of work. Some might see this gallery as it is – the simple apartment of Paul and Joanne Lindau, but I call it magic.
Upon entering, I had to recalibrate my expectations because I had come to know Paul Lindau in a certain role and now intended to fully engage this artist in an entirely different one. I first knew him as visitation pastor at First Lutheran Church in Beaver Dam, before I knew of his artistic talent. As I sat on the couch talking and touching and feeling my way around Paul's art, I felt a bit like I was hearing classical music from a country artist or rock music from a jazz band. To see him anew, I re-tuned my ears to better appreciate his music, which just happened to be grand artwork.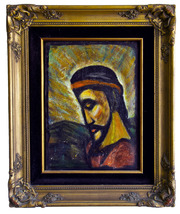 There is a movement to Paul's work, an up-tempo beat that is as calming and refreshing as a favorite tune. He is also as diverse as a four-part harmony – all at once commercial and charitable, contemporary and traditional, spontaneous and calculated, but his virtues blend magnificently. His talent has become a link between his personal and professional life like a bridge that leads into a captivating chorus. Paul has infused his day job with his art across nearly every decade of his life, while also having pursued his calling as a beloved ordained clergy. Paul has found his voice in the quiet depths of painting despite the fact he spent his life publically engaged, animated and vocal. In his personality and with his art, he shares his intelligence and easiness, like a well-crafted, well-lyrical ballad. I could not help but listen longer to the compelling cadence he expresses so well on canvas.
Long before he discovered his voice as an artist, Paul sang with his brothers in church. "Boys," his father and pastor announced, "I have a song I want you to sing this morning." Paul recalled, "First we sang in unison, then my father asked for harmony." At first, Paul's paintings may have appeared like that blended voice with his brothers, one that barely stood out on its own. Now, having gained experience and diligence of craft, his personal style has truly emerged. He has bolted from the crowd, producing and mixing his own brand of harmony with color, curves, lines and shapes. "An amateur waits for inspiration, a professional works at it," said Paul.
Work at it, he has. Paul has the keen eye of a birdwatcher, the heart of a singer and the mind of a theologian. All three facets influence his art. He allows his art to ruminate, to increase in flavor and intensity like soup simmering on the stove. Paul tries to spend at least three hours a day in his studio. Initially, he finds a focus and creates from it as expertly as the musician triumphs over notes on a page. Then, he releases his talent as if it were one of those birds tagged by the DNR for counting, only his catch and release we get to enjoy on canvas. Many of his creations are spiritual and nature-related, others the very likeness of man, perhaps as divinely fashioned as God's image of us.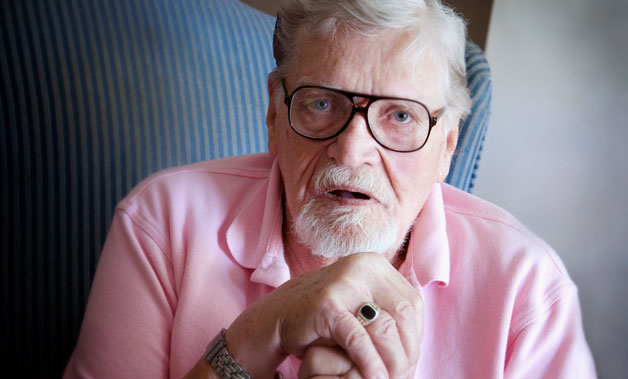 From his first creation to the last, Paul's artwork reflects him – captivating, soul filled and rich with passion. He has enjoyed oil painting, woodcuts, and illustrating, even trying his hand at faces and caricatures. He claims his talent came directly from his mother "…who would have been an excellent painter if she'd had permission," said Paul. Despite her unfulfilled role as an artist, she managed to give her son all the permission needed to set him on a course that allowed art to infiltrate every corner of his life.
His first oil hangs above his living room couch, a seaside tableau of Rio de Janeiro. I stood on the beach, twinkling lights and all, his couch shifting to sand under my feet, thinking if I never made it there in person, here was this artist who allowed me a glimpse of such beauty. Paul then allowed me a behind-the-scenes tour into his series of depictions of Jesus, which he calls 'The Heads of Christ." He has produced five portrayals of Christ and plans to add to this series.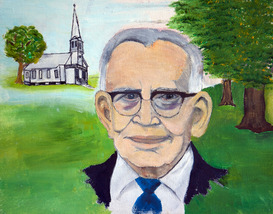 He tells a wonderful story of unexpectedly transforming his father's briefcase into the canvas for one of these (the best, I believe), which has hung in a concert hall in Germany. Paul fancied the artist Georges Rouault's work and set out to create Christ in a similar style. "During the time I served as the Protestant Chaplain for the US Embassy in Germany, I asked another artist if I should keep the painting or throw it. She said frame it, so I did. You can still see the staples on the briefcase," points out Paul, as if even today he could transform something so commonplace into something beautiful and extraordinary. Jesus in the Garden of Gethsemane proves Paul has a gift as well. Paul visited the legendary garden in 1985 on a pilgrimage to Israel. "I loved to see 2,000-year-old trees and the Holy Land historically and theologically," revealed Paul. "I just went back there in my mind as I painted that piece."
In 2001, a new artist opportunity came Paul's way as he accepted the challenge of illustrating a book for an author friend. "The Pumpkin Who Survived Halloween" unveiled yet another aspect of Paul's artistry – illustrator. This work launched further illustrations for a poetry compilation in 2010 by author Marge Wold. "It took me six months to create the pumpkin illustrations, but the author liked them immediately, and I didn't have to do many revisions." Many Beaver Dam residents have signed copies of the Halloween book at home, myself included.
Three years ago, Paul gathered the courage to showcase his art at the Seippel Arts Center for the first time, another career highlight. "When that invitation came, I wasn't sure where I was as an artist," Paul recalls, but the exhibit "Brothers in Art" boosted his self-esteem and motivated him to continue painting. He has also showcased his work at First Lutheran Church in Beaver Dam at the height of church festivals.
Until a few years ago, Paul had not dabbled in reproducing human features. "One day," Paul explained, "I discovered I could produce decent likenesses of people. I can finally do it." He started by painting his father, then moved on to friends and other family. One of his most outstanding paintings is one of Mark, his son who died at age 23 in 1987. His father's remarkable talent has captured Mark in time in his physical prime. Oddly, Paul waited 23 years beyond his son's death to carry out the work of materializing his son on canvas, but it is complete. This work is so real, so lovely I expected to hear Mark's voice right along with Paul's. If Mark's spiritual presence was not felt before, it surely is now with such an outstanding tribute.
Paul has an unusual connection to the Green Bay Packers through LeRoy Butler. Daughter Kym Lindau works with Butler's Foundation to raise money for breast cancer research and for survivors. Paul is treated like a father and family friend, and in turn, has produced several spot-on renderings of LeRoy, capturing his buoyant personality and his mischievous grin right there between the points of the frame.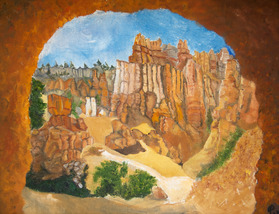 The crescendo of Paul's life is rising like the gradual hills and mountains of his landscape paintings, many illustrating his love of Germany. He has lived in Germany twice, treasuring the memories and friends made there. As a newly ordained clergy, he worked at the University of Washington in Seattle Lutheran Student Association. He had feelers out among friends about possible employment in Germany, but his lead, he felt, went nowhere. On October 4, 1965, the phone rang at 4:00 am. By October 11, he and his wife Joanne and their three children were living in Germany. Paul was fluent in the language. His wife Joanne did not know a word. His parents' reaction? "Oh, Lord! That's Paul!"
The Lutheran Church with whom he has been affiliated since his youth has also fostered Paul. He has not held back his voice as an artist but allowed it to resonate in projects to benefit the congregations and parishioners he served. He has served parishes in the states of Iowa, Washington, California and Wisconsin. He has experienced the tragic death of his only son, another connection to God and his faith. Paul retired from full-time ministry in 1994, and then served as the visitation pastor at First Lutheran Church in Beaver Dam. "The last 14 years were the best in my ministry," shared Paul. "I've never felt so loved as I have been here." He has had much more time to pursue art in retirement and thanks mentor and fellow artist Beverly Dohmann for taking him under her wing. "Bev has accepted me as part of her family," he claims.
What motivates Paul to paint? "These works are my legacy. I hope that someone will see these and be impressed enough to purchase something. I'd like to do something big before I quit painting," said Paul. "I'm fooling around with some aspect of Jesus' ministry. I wish someone would just give me a big wall to do a mural on. We'll see what happens. For now, when I paint in my studio, I put on some jazz, which I learned to appreciate from my son who played the alto sax masterfully. The music allows me to get lost in my painting."
Some people find their voices as public servants. Some find it by standing in a protest line or even a choir, united. Others discover creative ways to express themselves through humor, movement or by even establishing a platform in a magazine like LocaLeben. A few find their voices in quiet, contemplative moments with a clean canvas, inspirational jazz in the background and a few fine dollops of oil paints on the palette.
Can a man who has found his voice in the pulpit throughout his entire life also find his voice at the end of a paintbrush? I say Paul has, and it is a high note for sure.