May/June 2014
What does community mean to you? There is nothing better than the feeling we get from the place we call home. The familiar faces and places are the foundation of treasured memories. From the grocery store you visit for Sunday night supper's last minute ingredients to the coffee shop where you always run into a friend, it is these experiences that make our community so special.
You can join us in supporting and thanking the businesses and organizations that make new memories possible by reviewing your favorite. The business/organization that receives the most 5-star customer reviews between April 15, 2014 and June 15, 2014 will win a profile in the July/August issue of LocaLeben and you could win $100 just for submitting a review.
Last issue in my father's Parting Thoughts we created a poll for the best fish fry in Dodge County. The top 5 were Old Hickory, The Bell, John's Bar, Suzie's Home Cooking and Hogz 'n' Honeez. We are extending that contest and working it into the 5-Star Review Contest with a separate prize based on your reviews.
We will also be highlighting the unique story of many of these businesses online at www.LocaLeben.com throughout the contest. Make sure to check them out and share your favorite memories in the comments. Visit http://www.localeben.com/businesses to leave your review.
The local movement has massive reach. People in small communities are making an impact – both locally and nationally. I want to share a particular story with you that I just discovered today. It is a company with an idea that aligns perfectly with the movement we are hoping to create in Dodge County. A handcrafted fishing lure being made right here in Beaver Dam, Wisconsin. Slop Frog Baits is more than a start-up company. They are creating a full on movement of artisan baits made By Fishermen For Fishermen with only one goal: to catch more fish! It is downright inspiring to see something like this taking off right here in Beaver Dam. We will be featuring them next issue – but in the meantime jump online for some exclusive content from them.

Feature: Jersey Street Music Festival
The Largest Small-Town Music Festival In The World

Fish N' Fun
Edgewater Park is the site for Beaver Dam's 12th annual Fish 'n Fun, which will be held Saturday, June 7, from 9:00 a.m. to 2:00 p.m.

The Social Luxury of Beer: May/June 2014
Can you bring the beer?

More Than A Flip – 329 Park Avenue
This is my way of trying to make a difference in the community that helped make me into the person I am today. My team and I are doing what we can to improve the city, one house at a time. Read more

Stump The Beaver: May/June 2014
How come we don't have any vintners who produce wine around here? Why is Wisconsin called the Badger State? Does the Beaver have any long-term goals? Read more
Feel The Music – Literally Read more

Viewfinder: For Love and Money
Carl's eye is simultaneously hard-edged and sympathetic. He knows the difficulties these businesses face.

Living Abroad
An Interview with 2002 BDHS graduate Nathan Patterson

View From The Kitchen: May/June 2014
Food: Everybody eats it. You are probably thinking about it right now. Read more

One Family: May/June 2014
Last Fall

Artist Feature: Patsy Radtke
Her sense of humor equals her sense of wonder. She is as down to earth as she is elegant and kind, with a beautiful smile that is always present.

The Patriot Tour
More than 100,000 riders across the United States have answered the Nation of Patriots' call each spring since 2010 in an effort to honor America's past, present and fallen armed forces, raising money for wounded veterans and their families.
The Wandering Man: May/June 2014
Multiplying For Easter Read more

Welcome To Veterans Park
As you move about the park, walking on a carpet of grass, you feel the warmth of the sun and the touch of the wind. You admire the beautiful evergreen trees. There is a tree for each branch of the service. They stand guard over the fallen. Read more

Navigating Cancer
Our model of care for cancer patients puts the patient at the center of decision making with navigation to assist them as they move through the cancer treatment continuum. Read more
Parting Thoughts: May/June 2014
May brings Memorial Day with an appreciation for those with courage and my personal memories of being afraid. Read more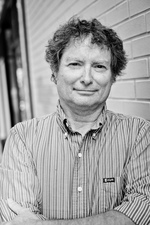 Cover Artist: Rod Melotte
About The Cover:
Some of my best images are taken in inclement weather. These cover photos are a before and after photo of the same storm. I noticed on radar that there were some good-sized cells bearing down on Lake Mills, so I hopped in my car and did my version of thunderstorm chasing. The front cover shows the storm as it just starts to cross Rock Lake. The air was dead calm, and the lake, the same. After the storm passed, I rushed to my car and drove to the other side of the lake. The back cover is the image presented to me by the Thunder Gods. One last rain squall and it was over.
What I love about weather is that it is so random; you never know what will happen next.
Rod