Digital Edition: September/October 2014
It is amazing how easily friends can be made in such a tight knit community like ours. In the four years I have been doing this magazine I have been fortunate to meet a lot of people – many have become good friends that continue to stay in contact long after they are featured in the magazine. Friendships are a really important thing to have and I am so appreciative of the connections I continue to make.
Even though I don't feel like it most days, I am a relatively young person. I can hear your moans as I write this. At age 25, I am just far enough out of high school where I am starting to feel nostalgic. Students continually impress me in our area high schools. We feature a high school band The Riverside Regulars. These guys are outstanding – and I don't say that because of their age. Check them out and support them in any way you can. They remind me a lot of my high school days with our garage band "Spent Past." All of us who were in the band are still friends today and they are some of the best friends I could ask for.
I have discovered there is a group of people locally that meets for just about any interest one may have. Seek out other people that share your interests – it can be the best way to feel truly a part of your community and love the city you live in. It is easy to think you are the only one in the area that likes snowshoeing or vintage bicycles, but I bet there are more. By getting together with others, you create community – and community is a very powerful thing.
Finally – our cover is a really special one. This was one that I saw just scrolling through my news feed on Facebook and immediately thought – this is a cover. I was struck by how unique and creative it is. Mostly though by how seemingly ordinary it is at the same time. Technology is a pretty great thing that it allows us to capture these types of images at anytime. I am very thankful to Linda Chipman for allowing us to feature it.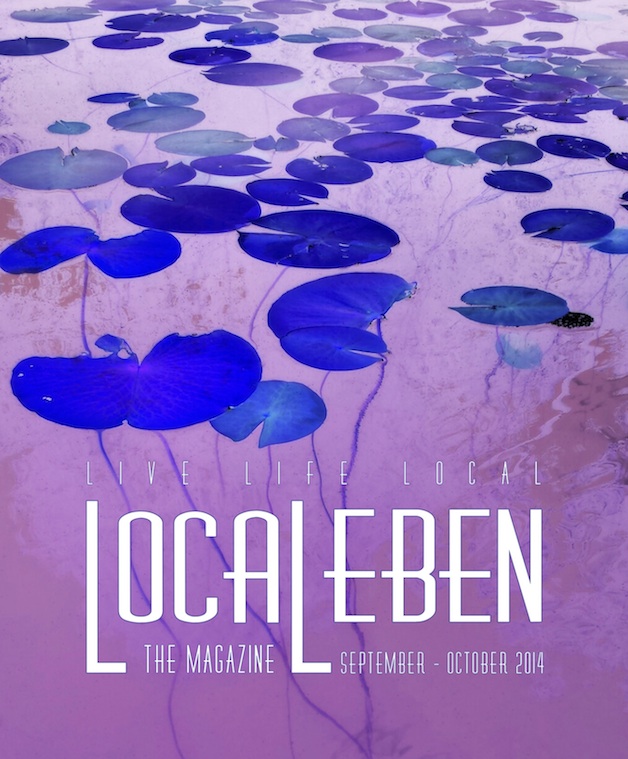 We are also offering an email newsletter to help you live – life – local. There will be coupons and offers from our advertisers along with a weekly summary of the stories and news from LocaLeben.com. Just text LEBEN to 44144 if you want to join.

Audubon Days: Migrate To Mayville
Come to Mayville October 3-5 to enjoy an entire weekend of festivities. Many classic events and some new ones. Something for everyone to enjoy. Read More

Beaver Dam Native Inherits Love of Heirloom Hungarian Pepper. Read More
The Wandering Man: Letter of Legacy
We may look at our own parents, grandparents, and again, if we are so fortunate, our great-grandparents and wonder how much we know these people who are the very reason we are here at all. Read More

Stump The Beaver: September/October 2014
The Beaver takes questions on why he is dressed up as a vegetable. Read More

We are just three guys who love to make music. This isn't just a hobby for us; it is a lifestyle. Read More
This & That: Summer Is Over…or maybe not…
The calendar is saying it. Nature is saying it, with the miniscule but still noticeably shorter days. Read More

Social Luxury of Beer: Why does Oktoberfest season start in September?
Oktoberfest doesn't have much to do with the month of October these days. Read More

Viewfinder: John Randal McDonald Through The Eyes Of Dave Erickson
Dave Erickson captures A home situated on the eastern shore of Beaver Dam Lake that will likely challenge those that pass by to describe it in familiar terms. Read More

View From The Kitchen: Butternut Squash Soup
When you're done exploring all that Wisconsin has to offer in Fall, here is a recipe for that squash you just bought. Read More

Tucked away, across the road from the federal Horicon Marsh National Wildlife Refuge auto tour in Waupun, waits the small, private non-profit Marsh Haven Nature Center. Read More

Diving Deep at Wayland Academy
There are few things as unnatural to a human being as breathing underwater. Read More

Lines From Upstream: Porky and The Blockhouse Buck
A Mostly True Story Read More

Feature Artist: Frank Mittelstadt
It is as if his art is not a noun, but a verb that calls us to step away from the desk, turn off the TV, grab our hiking shoes or kayak, and become one with nature. Read More

Notable Women in Beaver Dam History
Very remarkable women have left noteworthy and significant legacies, right here at home as well as afar. Read More
Parting Thoughts: September/October 2014
This magazine is sponsored and brought to you by our advertisers…please support them… Read More

VIDEO: Volksfest Giving Distinguished Service Award
VIDEO: Carl Neumann of Waupun and Bill "Uncle Bill" McCollum received lifetime achievement awards from the Wisconsin Polka Hall of Fame. Read More