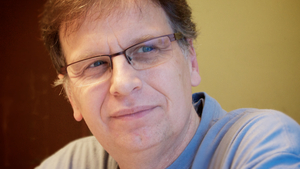 By: Dave Bowman
This past week I attended my uncle's funeral in Rockford. He had led a long and productive life there, and I have many fond memories of him. He was my mother's older brother; her younger brother had passed away several years ago.
One of the special opportunities I had was to honor his service to our country. He had served in the Army, 34th Division, 135th Infantry Battalion, in North Africa and Italy. He was wounded on November 7, 1943, and then returned as a Military Policeman in Italy. As I was growing up and visiting my grandparents' house, I would often be regaled with stories about his service. My grandmother would casually mention a tea set on her hutch that he had gotten from one of Benito Mussolini's houses and the letters he would write her from riding on the back of a mule that the troops used in the mountains.
At the graveside was a tribute that I had witnessed just once before at my other uncle's funeral. He had been in the Navy in World War II and served in the South Pacific. At both their funerals, their service was honored with a gun salute, the folding of the American flag on top of the casket, and words of comfort to the family as the flag was handed to a family member. It is something that still makes me pause and contemplate as I remember it.
I have had many opportunities to hear about veterans' experiences in the various skilled nursing and rehabilitation centers where I have worked as a social worker. The stories veterans are willing to share are both enlightening and awe inspiring. Whether it was the B17 pilot who told me that "It's not like in the movies," the infantry engineer who landed on Utah Beach during D-Day in the first wave up the beach, or the battle-hardened veteran who looked at me in my tie with clipboard in hand and told me "You know, Dave, Patton would have kicked you all over Europe," with a chuckle and a grin. What higher praise, indeed!
General Douglas MacArthur once said, "Old soldiers never die, they just fade away." This generation of warriors, the "Greatest Generation" as Tom Brokaw so eloquently put it, is fading into the sunset of history. So, if you get a chance to talk to a veteran of any conflict, please lend an ear and listen to their tales. They have a story worth hearing, and a story worth remembering. Their story is why we can continue to cherish the freedom and liberties we enjoy.
So, here is a big salute and thank you to my Uncle Wayne and my Uncle Don, two of our finest heroes from the "Greatest Generation" that is slowly, one by one, fading away.