A Royal Clark Music A Royal Clark-"Free Marie" Live at WYOU 3/7/2009 a royal clark – 461 Ocean Boulevard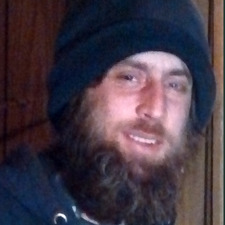 A Royal Clark ?Worth A Risk ?
By Jacob Friede? ?
On a spring afternoon in 2008, five musicians stared back and forth across the room between their computer and the rain pouring outside the window. Under a serenade of tornado sirens, they contemplated if the rumors were true that their building was to be evacuated due to flood, and based on that decision, whether or not to take that mammoth PC and make a run for it. Why the drastic measures? Surely not for the computer itself: it was an antique, unreliable, slow and awful, and most unfortunately, unable to save off of. But what was on that computer, to those five musicians, was sacred scripture. Not the crumbled, broken blocks of the ten commandments, but a sonic stone tablet, intact and inscribed with street psalms and small town revelations. And though the Beaver Dam River was no Red Sea, waters were rising, and the songs were worth a risk.
Under those biblical black skies, which envelop as one senses the complete loss of six months' labor, the guys of A Royal Clark imagined their first record racing down the rapids toward Lowell. And that pondering on no payout that proceeds to question if you do what you do because you must, is what laid the foundation for A Royal Clark's music, because you just never know. They sure didn't. They were not then even a band. They were musical nomads from the same town, brought together for a collaboration of Beaver Dam songwriting by guitarist Robby Hull, who at that time was playing in the group 120 Volt Jimmy with drummer Kevin Bedker and bassist Jim Pasewald. Josh Pearson was also recruited for the album, as he was a principle songwriter in the local band Just Like You. And Jake Friede was back in town from wandering between Portland, Oregon and Madison on singer/songwriter ventures.
The songwriting collaboration went from one month to six, as the song list and stress level went from four to ten. The album survived the spring storms and was performed at a summer festival as Dewey Decimal and the System. It was that performance, that first time the guys could hear it live, which lured them into continuing on as a working band. And since everyone had already been in bands for years, that decision was not made lightly, though quickly.
After carving a new band name, out of gravestone with broken keys, Joe Cabreda eventually took over on drums. He diligently learned the ten songs of the album and the remainder of a three-hour set, which was scheduled for a Thanksgiving Eve performance less than two weeks after he joined.
Joe's ability to process a heavy song load played right into A Royal Clark practice, which is to write a lot of songs. The result is a song list of rock-country-blues that is as diverse as it is deep. This has allowed the band to play full original shows at country bars, city clubs, fairs, and festivals all over the state, including quite a bit of work at home. They have appeared locally from the Swan City Concert Series to the Madison Street bars to a pontoon boat in the middle of Beaver Dam Lake. In or out of Dodge County, A Royal Clark's musical path passes one fan at a time and friends at every turn.
Like Randy and Ann Lee, who are two of A Royal Clark's best friends, and not just because they recently brewed and released a beer inspired by the band (Supernova: A Royal IPA). The Lees own and operate Valkyrie Brewing and have invited A Royal Clark way up to Dallas, Wisconsin, every year for the last five years to perform at their famed Oktoberfest, where cannons boom and kegs are bottomless.
Wherever they visit, in order to keep the song list evolving, A Royal Clark keeps their eyes and ears open. They see the first snow of the year start to fall as they open a show outdoors in October and listen to the only person at the bar bellow out to keep on bringing it and learn from the bands they have the honor and pleasure of sharing the stage with. A Royal Clark's tunes are cultures of the towns they play in and conversations of the characters they meet. The music has mud in it, can get gritty and heavy, and is at times pretty, all the parts of a prairie. And their show features variety, like five different visions of rain pouring outside the window.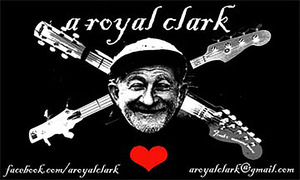 For more info, tunes, and booking, ?check out www.aroyalclark.com? or reach us at aroyalclark@gmail.com
Also Like us on Facebook http://www.facebook.com/ARoyalClark